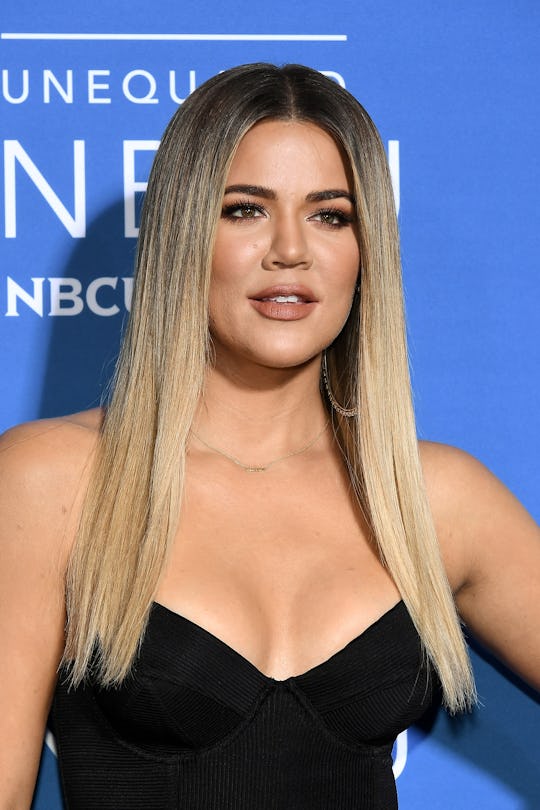 Dia Dipasupil/Getty Images Entertainment/Getty Images
The Meaning Of Khloé Kardashian's Daughter's Name Feels Like It Could Be A Subtweet
After months and months of wondering whether or not she was actually pregnant, to then the last few weeks of waiting for her to go into labor, the Aunt Koko is officially a mom. Khloé Kardashian welcomed her daughter on Thursday, April 12, according to TMZ, and not long after the birth was announced the new mom finally revealed what she and boyfriend Tristan Thompson decided to name their baby girl: True. But, what does "True" mean and why did the new parents choose this sweet moniker? The meaning of the name feels like a direct response to the allegations Thompson has faced over the past week. Using your baby's name to potentially shut down cheating rumors? Dang, Koko.
As fans of Kardashian know, the new mom has been very precise when it comes to preparing for the arrival of her little one. Kardashian waited until she was far enough along to announce her pregnancy, she threw a gorgeous baby shower and had been staying positive and healthy before she gave birth. Additionally, the 33-year-old has been pretty picky about choosing a name for her first child, and understandably so. Basically, everyone in her family has given their own children totally unique and special names, so it makes sense that she would also want to take time and pick the perfect name for her bundle of joy.
Kardashian even crowd-sourced some ideas for a baby name before she gave birth. Back in March, Kardashian took to Twitter to ask her fans for some name suggestions for the baby girl, but with the standard that they must start with a T.
After some fans had surmised that Kardashian was going to name her daughter Ella, Kardashian responded, "beautiful but I'm going with a babe that starts with a T," likely so that it will go well with the last name Thompson. So, now that Kardashian has officially welcomed baby girl True into the world, fans are curious as to whether there's any special meaning behind the name.
Well, it's unclear what the name means to Kardashian and Thompson, if anything, but technically speaking, the name True does have a specific meaning, according to SheKnows:
The name True is an English baby name. In English the meaning of the name True is: Loyal.
And Behind the Name seconds that definition:
From the English word "true" meaning "conforming to the actual state of reality or fact; factually correct; loyal, faithful; genuine; legitimate; accurate". From the Middle English trewe, from the Old English trīewe, (Mercian) trēowe 'trusty, faithful'.
So, uh, their baby's name means "loyal" or "faithful," and they named her that a week after allegations that Thompson cheated on Kardashian while she was pregnant... *Insert eyes emoji here*
If that isn't the most clear response to cheating rumors, then I don't know what is. Using your offspring's name to shut them down? Hardcore, Koko.
For Kardashian, welcoming her daughter into the world is about so much more than just her name. The Good American designer has wanted a baby for so long now, and fans have been thrilled to learn that she was finally getting to start a family of her own. A dark cloud, however, was certainly cast over her happy news after the Daily Mail published footage that purportedly showed Thompson allegedly with another woman. Romper's requests for comment from both Thompson and Kardashian's team regarding the cheating allegations were not immediately returned.
When it was reported that the Keeping Up With The Kardashians star had given birth, many fans wondered if he was even in the hospital with her. But, as TMZ reported, Thompson was, in fact, present during delivery. According to the news outlet, "We're told the little girl does not have a name yet. Kourtney, Kim, Kris and Khloe's BFF Malika were by her side during the birth. Tristan Thompson was also there."
Additionally, fans also wondered if Kardashian would be sticking by her sentiment to give her daughter her boyfriend's last name, given the recent allegations. But now, it's clear that she did, and it could also be starting a new tradition: The baby's initials are TT, whereas the Kardashian's initials are always KK.
Not to mention, the decision to give her daughter a moniker that literally means "faithful"... I mean, there's really no other way to describe it except for bad*ss.
Check out Romper's new video series, Bearing The Motherload, where disagreeing parents from different sides of an issue sit down with a mediator and talk about how to support (and not judge) each other's parenting perspectives. New episodes air Mondays on Facebook.