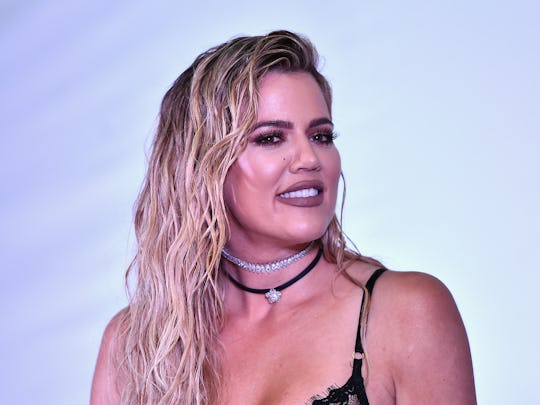 Alberto E. Rodriguez/Getty Images Entertainment/Getty Images
Khloé Kardashian Reveals Her Daughter's Name, & It Might Start A New Tradition
The moment Keeping Up With The Kardashians fans have been waiting for is finally here. On Monday, Khloé Kardashian revealed her daughter's name via Instagram. The news comes just four days after Kardashian welcomed her daughter into the world on Thursday. Not only is the name super cute, but the moniker suggests that Kardashian could be starting a new naming tradition of her own.
It's no secret that Kardashian's fans have been chomping at the bit to learn her daughter's moniker. From people flooding Kardashian's Instagram page with inquisitive comments to KUWTK diehards venting about her silence on Twitter, it has been a tense past few days.
The good news is fans won't have to wait any longer to find out what Kardashian and her NBA Cavaliers Player boyfriend, Tristan Thompson, named their little one because she just spilled the beans via an *adorable* Instagram post.
So, what did moniker did the couple decide on for their daughter? Prepare yourself for a truckload of cuteness, people, because Kardashian is now the proud momma of a little girl named True Thompson. Talk about a beautiful and adorable name, right?
"Our little girl, True Thompson, has completely stolen our hearts and we are overwhelmed with LOVE," Kardashian captioned a pic featuring a room filled to the brim with pink balloons, according to Instagram. "Such a blessing to welcome this angel into the family! Mommy and Daddy loooooove you True!"
Following Kardashian's big reveal, many people took took to the post's comments section to compliment the name.
"Congratulations!!! True, what a beautiful gorgeous name," someone wrote.
Another person chimed in: "True that's pretty."
"Congrats Mama," another fan penned. "You chose an amazing name! Wishing you all the happiness and love."
Although there's a lot to be said about True's name, it is especially interesting because it seems to suggest Kardashian plans to start her own naming tradition. Think about it: if Kardashian named her daughter True Thompson, that means her initial's are T.T. — a possible nod to the Kardashian family's tradition of giving their kids the same first and last initial. Kardashian and her two sisters, Kourtney and Kim Kardashian, all have K.K. initials. Could it be that Kardashian wants all of her kids to have T.T. initials like True? Or who knows, maybe Kardashian is just a fan of double initials and that she'll continue this trend even if she doesn't stay coupled up with Thompson.
Either way, it's obvious Kardashian stayed true to her word about the whole "T" thing. Although some people thought Kardashian would ditch the "T" initial due to the cheating allegations surrounding Thompson, it looks like she is a big fan of the letter T no matter what. Thompson's and Kardashian's reps didn't immediately respond to Romper's request for comment.
Kardashian deciding on T, however, should come as no surprise to the people who follower her on Twitter. When a fan suggested Ella Thompson for a name, Kardashian responded, according to Twitter: "Beautiful but I'm going with a babe that starts with a T."
Well, girl knows what she wants. Plus, why should Kardashian have to change her baby's name because of a scandal? If Kardashian loves the name True, she has the right to name her baby that no matter the supposed circumstances. Let Kardashian make her own choices, people.
Name aside, it's clear Kardashian is beyond excited to be a mom. From the multiple mentions of the word "love" in her announcement to the sea of pink balloons overtaking her home, girl is clearly in celebration mode. Of course, it goes without saying that Kardashian deserves privacy as she soaks up every single second with her new addition, True. Kardashian waited a long time for this moment and it's truly (I can't help myself) heartwarming to see her enjoying motherhood for the first time.