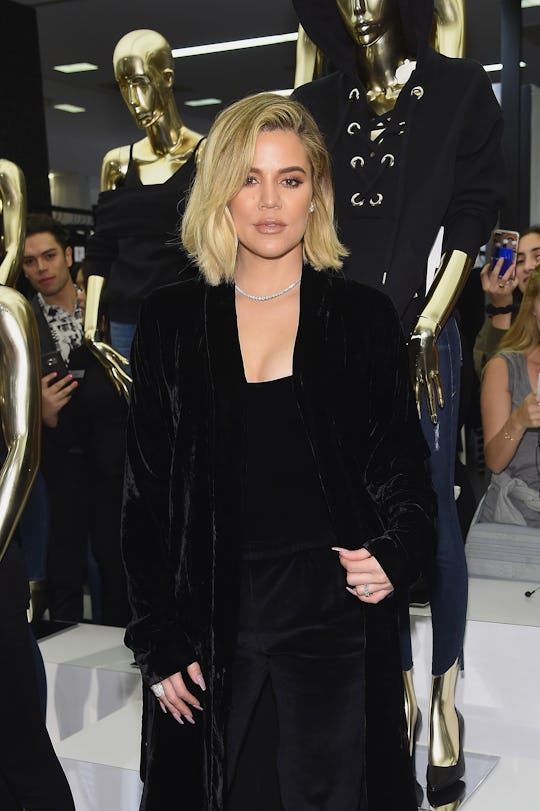 Jamie McCarthy/Getty Images Entertainment/Getty Images
Khloe Reveals How She Fell In Love With Tristan Thompson, & It's Must-Read Relationship Advice
Reality star Khloé Kardashian might be preparing to welcome her first child into the world with her partner Tristan Thompson, but on Tuesday, the mom-to-be shared a Valentine's Day post on her app about their love story, and it was full of great relationship advice. In the post, Khloé Kardashian revealed how she knew Tristan Thompson was "the one," according to Entertainment Tonight, and it's clear that the super sweet couple are a perfect match.
Although both Kardashian and Thompson had previously been in serious relationships — Kardashian divorced husband Lamar Odom in December 2016 after seven years of marriage, according to E! News, and Thompson has a 1-year-old son with his former partner, Jordan Craig, according to People — Kardashian explained in her post that it didn't take her long to realize that what she and Thompson had was very different from anything she'd experienced before. Kardashian wrote that she knew "very quickly" that Thompson was "the one," and said that she had "never felt so comfortable or so safe with someone." But even though she fell for him fast, Kardashian was also adamant about not rushing into anything. She wrote, in the post on her app:
I took it very slowly and was cautious about how I went about 'us.' I made sure we had very in-depth conversations. I wanted to make sure that those conversations were backed up by actions.
After Kardashian and Thompson began dating in September 2016, the Keeping Up With The Kardashians star was regularly spotted in visiting Thompson in Ohio, where he plays for the Cleveland Cavaliers. And from the sounds of it, their long-distance love was pretty serious right from the start. Kardashian said that more important than their initial chemistry, was the fact that they shared similar values, allowing them to build the "mutual love and respect" that eventually becomes the "foundation for when the honeymoon phase is over." Kardashian wrote,
It was really reassuring to feel that someone had the same belief systems as I did. We shared the same principles and morals. We spoke about religion, children and our families. I think all of those things are important to truly know the ins and outs of someone. It's really easy to fall in love with someone during a honeymoon phase when you haven't yet discussed the logistics of life. But you have to talk about the real things if you want a real/long-lasting relationship.
Fast forward to 2018, and the rock-solid couple is building a life together in Cleveland, where they live and where they are planning to welcome their first child. And they're definitely excited: when Kardashian announced her pregnancy on Instagram in December after months of speculation, Kardashian gushed about her love for Thompson, and her appreciation of his non-stop support. She wrote,
Tristan, thank you for loving me the way that you do! Thank you for treating me like a Queen! Thank you for making me feel beautiful at all stages! Tristan, most of all, Thank you for making me a MOMMY!!! You have made this experience even more magical than I could have envisioned! I will never forget how wonderful you've been to me during this time! Thank you for making me so happy my love!
But while the happy couple is clearly overjoyed to be entering into a new stage of life together, fans shouldn't hold their breath for an engagement announcement anytime soon. In an interview with Ellen DeGeneres in January, the pregnant star said that she "[wasn't] in a rush for any of that," and explained, "right now, I'm so loving the place that I am in my life and I'm just very happy with how things are going."
As much as Kardashian seems to have found a fairytale happy ending with Thompson, it sounds like the actual truth is that they've both worked hard to make sure their relationship is as strong as possible. What's more though is that Kardashian definitely seems to have made a point to go into her relationship with her eyes wide open to ensure they're actually a good match. And while things like "shared values" and "conversations about religion and family" may not be nearly as whimsical or romantic as candlelit dinners and impromptu tropical getaways, Kardashians words are a valuable reminder that, when it comes to long-term love, those are the types of things that really matter.
Check out Romper's new video series, Bearing The Motherload, where disagreeing parents from different sides of an issue sit down with a mediator and talk about how to support (and not judge) each other's parenting perspectives. New episodes air Mondays on Facebook.