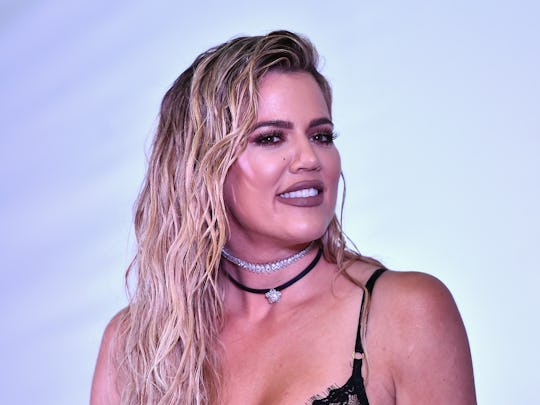 Alberto E. Rodriguez/Getty Images Entertainment/Getty Images
Khloé's Newest Tweet About True Shows She's So Over The Cheating Rumor Drama
Khloé Kardashian has been having something of a time of it lately, and of course everyone with access to the internet has been weighing in. About her relationship, about her family, about whether she put on too much weight during her pregnancy and how much exercise she should be getting. But do you know who isn't especially worried about any of this constant chatter? The woman herself, as evidenced by a recent tweet. Khloé said daughter True is her "bestie," because let's face it, being a new mom is the only thing she should have to worry about right now.
The 33-year-old Good American designer has wanted to be a mom for quite some time, as anyone who watches Keeping Up With The Kardashians is well aware. Khloé has always had a truly natural, sweet relationship with her nieces and nephews and has long since proven to be really at home in the company of the children she loves. So fans were genuinely excited when she and her NBA player boyfriend Tristan Thompson announced they were expecting their first child together in December. Before the whole world got mired down in the rumors about her relationship, this was what fans knew: the Revenge Body host wanted to be a mom, and most fans wanted to see her thrive at it.
And so she is.
Khloé welcomed daughter True Thompson on April 12 in Cleveland, Ohio surrounded by her family. Momager Kris Jenner was naturally on hand, as were sisters Kim Kardashian-West and Kourtney Kardashian, according to Us Weekly. Boyfriend Tristan Thompson was also reportedly in the room when his daughter was born, and this is the relationship people have been so focused on — the one between mom and dad rather than mom and baby. As everyone knows, multiple news outlets including People reported that Thompson was allegedly caught on camera cheating on Khloé while she was still pregnant. The story was first shared by The Daily Mail, where a video of someone purported to be Thompson entered a hotel room with a woman.
Thompson's and Kardashian's reps didn't immediately respond to Romper's request for comment.
These allegations managed to overshadow what should have been the most important time in Khloé's life, becoming a mother for the first time.
Fortunately, the new mom doesn't seem to be letting the talk about her relationship affect her. She tweeted on Tuesday that she "still can't believe" she's a mom, and that True is going to be her "bestie for life." Which tells me somethin:; no matter what anyone else chooses to think about her life, Khloé clearly has her eyes on the true prize. Spending time with her little girl, and cherishing these early days of motherhood.
Khloé's fans were refreshingly supportive of her little gushing moment about her daughter on Twitter.
A source close to the Kardashians confirmed to People that the new mom is loving her time with her baby as well, saying:
Khloé seems great. She loves being a mom and can't stop talking about True.
And while there have been rumors that there is some tension between Khloé and the rest of the Kardashian clan, that same source told People that she's just as close as ever.
She talks to her sisters several times a day.
The reality is, people are going to continue to talk about Khloé's relationship. They're also going to continue talking about her body, her exercise habits, her family, and every other choice she makes under the sun. But Khloé is over it. Because she has something bigger and better to fill her days with than rumors. She has her little girl. And sure, Khloé admitted on her app that all True does these days is "eat, sleep, and potty," but let's face it... she's definitely loving every minute of it.