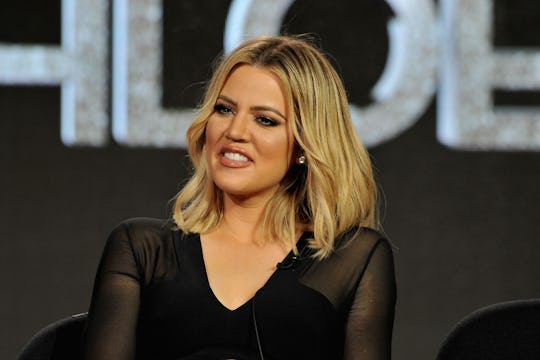 Jerod Harris/Getty Images Entertainment/Getty Images
Khloe Kardashian Says She Hasn't Watched 'The People V. O.J. Simpson' For One Reason
Newly minted talk show host, Khloe Kardashian opened up on the set of her new FYI series, Kocktails with Khloe and talked about her feelings on the wildly popular series The People v. O.J. Simpson: American Crime Story, based on the Simpson's 1994 trial for the murders of Nicole Brown Simpson and Ronald Goldman. For Kardashian, the whole mess is pretty personal. Brown Simpson and Kardashian's mom, Kris Jenner, were good friends. And her dad, Robert Kardashian, was a close friend and attorney who defended Simpson against the murder charges (and ultimately got him acquitted). And both Kardashian's parents are included in the series, played by David Schwimmer and Selma Blair. But that's not the reason Khloe Kardashian says she won't watch The People v. OJ Simpson. The real reason? Sydney and Justin — Simpson and Brown Simpson's kids.
On the episode of Kocktails that airs on Feb. 24, Kardashian puts her qualms with the series in typically blunt and slightly NSFW terms.
"I'm not their child," she said. "I more felt bad for the kids, Sydney and Justin. I'm like how f*cked up ... you'll never get over your mom being murdered, and now they have to be stalked with paparazzi again?"
That's certainly something Kardashian knows something about. She also said she's nervous to see how her Dad is being portrayed.
Here's the clip.
In a particularly revealing moment between sips of what looks like a mojito, Kardashian confessed that seeing the footage of the Simpson trial and hearing her dad's voice on news footage was painful. Robert Kardashian died in 2003 from esophageal cancer.
But Kardashian doesn't seem to have completely ruled out watching the miniseries. She says she's got it recorded on her DVR. Maybe eventually she'll decide to finally watch the show. Kardashian and her sisters even get a moment, which might be pretty fun for her to see.