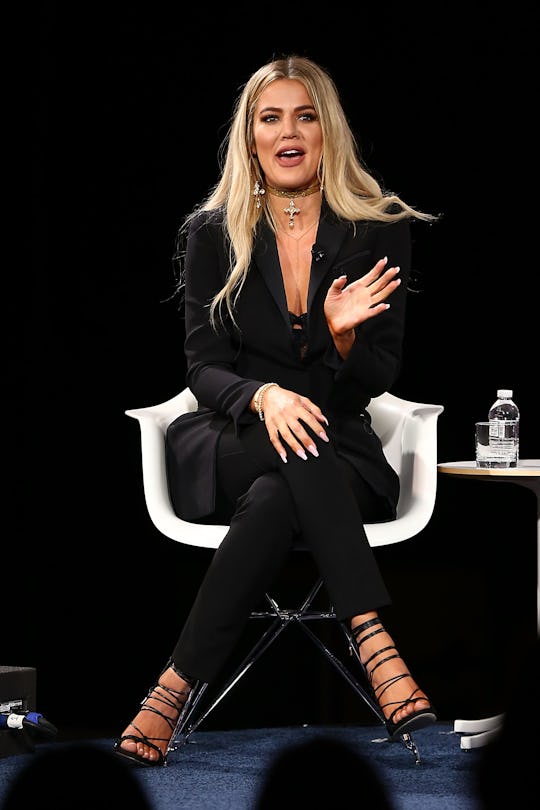 Joe Scarnici/Getty Images Entertainment/Getty Images
Khloe Kardashian Wants Everyone To Stop Asking About Her V
When you welcome a baby, you also open a door for a flood of unwanted comments, unsolicited advice, and tons of policing from other moms, issues which some people are, frankly, totally and completely over having to deal with. When you're in those first few fragile weeks and months of new motherhood, everything is new and nothing is familiar, and the last thing you need to be dealing with is other people's opinions. But perhaps the most invasive of all are the gamut of questions that people tend to ask about your personal health and birth story. That's why Khloé Kardashian says to stop asking if she had a natural delivery, because her vagina is "none of your business."
Us Weekly reported that Kardashian took to her app to talk about all the questions and comments she is tired of fielding, especially when it comes to how she delivered True. "My vagina, its past, its present, its future, is none of your business. Period," she wrote.
Kardashian also said she's over inquires about breastfeeding: "You never know the private struggles someone could be going through and how terrible it may be making them feel," she said. This makes sense, given that Self previously reported Kardashian herself had to stop breastfeeding after two months, as it just wasn't working out for her. "It was really hard for me to stop (emotionally) but it wasn't working for my body. Sadly," she wrote on Twitter at the time.
On the same post, she also said she thinks people should be mindful of saying to new moms: "You look tired," or "Your baby cries a lot," or "I never see you anymore." She continued: "A new mom is likely already sad about this... and [these statements] will most definitely cause tears or anger." Lastly, Kardashian says that weight shouldn't be discussed, either. "The scale is the opposite of a new mom's happy place," she said. "I've been pretty damn lucky with my weight loss (trust, it's been WORK!) but everybody loses the lbs at their own place."
This is not the first time that Kardashian has shut down comments, questions and concerns about her personal life. The Cut reported back in June that Kardashian responded to a fan on Twitter who criticized her for staying with Tristan Thompson. "I love, adore & root for @khloekardashian but I'm so disappointed she stayed with that wasteman Tristan," the tweet read. "She preaches about women knowing their self worth and when to walk away but when it's time to walk the walk, she's a hypocrite." Kardashian responded:
Not exactly Queen Persia, you have no knowledge of what goes on in our household or the enormous rebuilding this takes to even coexist. I'm proud of my strength. I appreciate your opinion and I hope you hold that same opinion to everyone else who has stayed in situations.
Alongside her new outspokenness (well, who is anyone kidding, that's been trademark Kardashian for years) she's also spoken about how being a mom has basically given her superpowers. She wrote on her blog a few months ago: "I think what surprises me most is no matter how tired you are, you find this energy and patience for your child ... You know that babies are so helpless and they rely on you for everything. So something just takes over and you find the energy to care for this helpless precious baby."
Regardless of the challenges that have been thrown her way throughout the journey, Kardashian is confident that she became a mom at the right time. (Her mom, Kris Jenner, even recently told Us Weekly that True is the "light of Khloé's life" and that she's an amazing mom.) Back in January after her pregnancy was announced, she told Ellen DeGeneres: "I've wanted to have a baby for so long it's just the perfect timing. God always has a plan and I just wanted to do it on my time and when I felt comfortable to do so."
And, alas, the time came and now True Thompson is here. Kardashian has always been the queen of clap backs, but now that she's a mom, it's fiercer than ever... and we are so here for it.