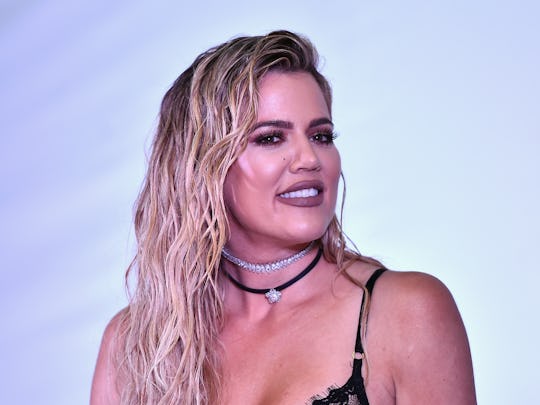 Alberto E. Rodriguez/Getty Images Entertainment/Getty Images
Khloé Kardashian's Newest Update On Baby True Has Fans Riled Up
Now that Khloé Kardashian's daughter, True, is officially 1-month old (time flies, doesn't it?) she is beginning to develop discernible features. Take little True's gorgeous green eyes or her adorable cheeks, for instance. There's no doubt Kardashian's baby is growing up quickly and it's heartwarming to see the transformation in real time. That all being said, however, there aren't enough of pictures of True for fans to make a final call on whether she looks more like Kardashian or her father, Tristan Thompson. The good news is Kardashian took to Twitter on Saturday to provide relief to all the inquisitive fans out there who are *dying* to know which parent True resembles more. As it turns out, Khloé Kardashian says True is Tristan Thompson's twin — a declaration that some fans are not happy about. Sigh.
Any supporter of Kardashian knows that she loves to get candid on Twitter. From complaints about the third trimester blues (the struggle is real) to telling off her haters, Kardashian is very active and honest on social media. So, it's really no surprise that she took to Twitter on Saturday to answer questions about True's looks. In response to a fan who asked whether True looks like Kardashian or Thompson, the Keeping Up With The Kardashians star revealed, according to Twitter: "Tristan and True are twins lol it's crazy." Cute, right? Kardashian also added, according to Twitter: "Everyone tells me they are identical lol it's wild maybe her eyes will stay light and I can get something lol."
Despite the fact that there's nothing wrong or offensive about a baby twinning with their parent, it seems a lot of people are upset about Kardashian's comparison. And, as expected, the cheating allegations surrounding Thompson are at the heart of the outrage. Thompson did not immediately respond to Romper's request for comment.
"That's gonna really suck later for you," one fan said about True's resemblance to Thompson, according to Twitter. "After yall split up after more infidelities."
"Soooo...you're really gonna act like all is good with your baby daddy," someone else asked, according to Twitter. "Or you're waiting for the big pay day & filmed it for your reality fake tv show."
Another person chimed in: "1 ugly baby."
Of course, it goes without saying that baby True and Kardashian don't deserve this vitriol from fans. Although it's reasonable that some people are still upset about the cheating allegations, it's not OK for fans to express their anger via True's looks. For starters, it's unpleasant to imagine True growing up to feel guilty about her resemblance to Thompson. I think it's safe to say that fans wouldn't want True to develop negative connotations about her appearance at such a young age. Additionally, True looking like Thompson has nothing to do with the cheating allegations. True should be allowed to feel whatever she wants to about looking like Thompson because he'll always be her dad no matter what. Fans should want True to have a positive relationship with her dad, regardless of how it works out between her parents romantically.
Luckily, a lot of fans are on board with these sentiments.
"Yes they are she is her daddy's baby girl," one fan gushed on Twitter.
"This is the cutest baby ever. I want to kiss her cheeks. Lol. God bless her," another fan added, according to Twitter.
Someone else said, according to Twitter: "I think she looks just like Tristan's Mom!! She's so beautiful Happy 1st Mother's Day!! XO."
So, here's to fans respecting True and her looks going forward. True is a healthy and beautiful baby, and that's something worth celebrating.