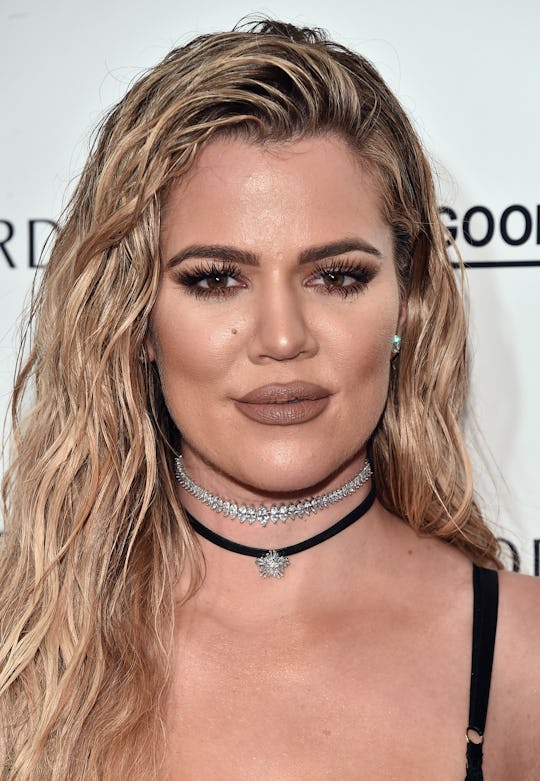 Alberto E. Rodriguez/Getty Images Entertainment/Getty Images
The Internet Is Pissed About Khloe Using Filters On Her First Picture Of True
Khloé Kardashian cannot catch a break, and it's getting old. After a month of keeping pictures of her new baby girl, True Thompson, to herself, she decided to celebrate her daughter turning 1-month-old with a sweet little video. Seems innocuous enough, right? Wrong. Khloé shared a picture of True with filters, and for some reason this really enraged a bunch of people on the internet. Because the girl doesn't have enough going on in her life right now without people going after her for adding a little flower filter to her baby's photo. I'm not sure why this is such a devastating problem, but I'm sure we'll all find out culling through the infuriated tweets.
True Thompson was born on April 12 and is Khloé's first baby with boyfriend, Clevaland Cavaliers player Tristan Thompson. Since giving birth, the Revenge Body star has been fiercely private about her time with her daughter. Of course, it didn't help that there have been rampant rumors of her boyfriend cheating on her while she was pregnant. So after a month of learning to become a first time mom and probably trying to deal with some serious tension in her home life, Khloé finally decides to share a little video of her baby, cooing at her in obvious complete adoration on Instagram. She added a little Insta flower filter. And suddenly, everyone was mad at her.
A few people even questioned whether or not True's little freckles, which are on her face and not floating above it like the clearly fake flower, were real or added filters.
It wasn't just Twitter that was blowing up with criticism for the Keeping Up With The Kardashians star; her Instagram feed saw a few unkind comments as well. Honestly, I don't know how she handles it, especially as a new mom with hormones a-plenty. Now to be fair, most of the comments were truly sweet and kind-hearted. Lots of people sending KoKo messages of well-wishes and love and compliments on her adorable little girl.
Omg am crying she is so cute happy one month old true u wil so proud of ya mum and dad🌸😍
She is truly a True. Such a precious angel 👼🏽Many blessings to you all. Happy Mothers Day. Enjoy your special gift you also deserve to be happy and joyous. You're gonna be an amazing MOM True will be proud of, this is truly your moment enjoy every minute.
But there are always the other people, who appeared to assume that Khloé's use of a filter gave the impression that she felt True wasn't beautiful enough without it.
Your baby girl is so beautiful, she definitely does not need a filter!!
Why filter a newborn?
So here's the thing people should consider; maybe Khloé was just having fun playing around with filters like pretty much everyone who uses social media tends to do. Maybe there was nothing nefarious about her use of a filter, and like a lot of moms out there, she just wanted to have a little fun in the middle of all the hard work of having a baby. Let's remember that this is the same woman who tried to celebrate her daughter turning 1-month-old two days early because she was so tired she didn't realize what day it was.
She's not even the first member of the Kardashian/Jenner family to use filters when sharing a first pic of her baby; sisters Kylie Jenner and Kim Kardashian-West added filters when they shared pics of babies Stormi Webster and Chicago West a few months ago as well.
I know that criticizing the Kardashian/Jenner clan is sort of part of the zeitgeist of our culture at this point. But do those attacks really need to extend to their children? Is this what we're going to do on the internet forever?
If they want to play around with filters, big deal. It's clearly a family thing they all like to do. Maybe people should stop making assumptions about their motives, and just look at a picture of a cute baby and be happy for a minute.