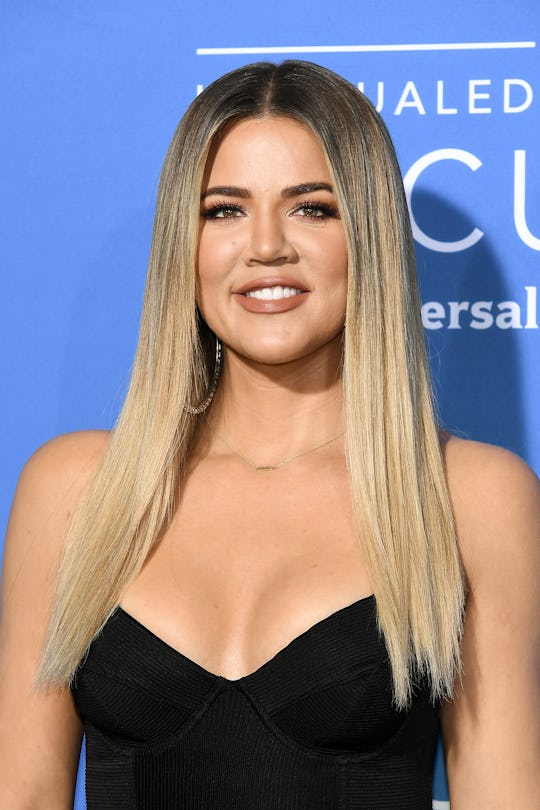 Dia Dipasupil/Getty Images Entertainment/Getty Images
Khloé Kardashian Singing To Baby True Is, By Far, The Sweetest Thing You'll See All Day — VIDEO
I really hope that I loved being a new mom as much as Khloé Kardashian clearly does. I can't really remember on account of all the not sleeping, of course, but I like to tell myself I was really into my baby. Because seeing Khloé Kardashian singing to baby True in this new video is making me all nostalgic for having a baby of my own, so I really hope I appreciated it in real time.
The 33-year-old Good American jean designer welcomed her little girl, True Thompson, on April 12 with Cleveland Cavalier player boyfriend Tristan Thompson. True was the last baby to be born during this recent KarJenner baby boom, joining cousins Stormi Webster and Chicago West from aunts Kylie Jenner and Kim Kardashian West, respectively. And while all of the new moms appear to be loving that good old mom life, there's something especially lovely about Khloé's joy.
Maybe it's because, as fans of Keeping Up With The Kardashians all know, she wasn't always sure if she would be having a baby. Her marriage to former NBA star Lamar Odom was rife with complications, according to E! News, and the Revenge Body host wasn't willing to bring a baby into a difficult situation at the time. But that didn't mean she wasn't longing to be a mom... and now that she is, she's all about that little True.
On Thursday, Khloé posted a sweet video on Snapchat that found her singing to her baby girl as she was getting ready to head out the door for a workout. She hummed a little "Skip To My Lou" to her baby (watch the video here), which could obviously be switched to "Skip To My True" and I just want to take a moment to thank Khloé for rising above the obvious pun. Instead, she was just chilling out, cuddling her baby, and looking happier than ever. Even with the filters.
True seemed to be enjoying the song too, bouncing away in her mom's arms and making those really great baby sounds that mean they're happy, which I love.
The whole family is now back in Los Angeles, which means True will be getting even more love from her extended family after spending the first few months of her life nesting with her mom in Cleveland. Kim Kardashian West told Access Hollywood on Tuesday that she and the rest of the KarJenner clan showed up en masse to dote on baby True... and introduce her to her little cousins, according to Cosmopolitan:
I'm so excited. They came back on Sunday and I just piled the kids in the car and took them to meet their cousin, True, and it was a lovefest. First it was Kourtney and all of her kids, then me and all of my kids, then my mom, [then] Kylie. It was just like, everyone was just coming over to see the baby and wanting to introduce my kids to their new little cousin. So it was really good to see her and have her back.
In true KarJenner style, Khloé's family made sure to give her a huge welcome, with youngest sister Kylie delivering "Welcome home Khloé and True" balloons from "Stormi and Kylie," according to E! News. There were also custom-baked True Thompson cookies to be eaten (although I'm not sure how to feel about eating a cookie shaped like a baby's face...) and lots of love to go around.
What a world True Thompson has been born into. Not only is she so obviously the apple of her mom's eye, she also has this ridiculously loving extended family who can't wait to spend time with her. And someday, when she's ready for fashion and makeup? The girl is going to be set for life.