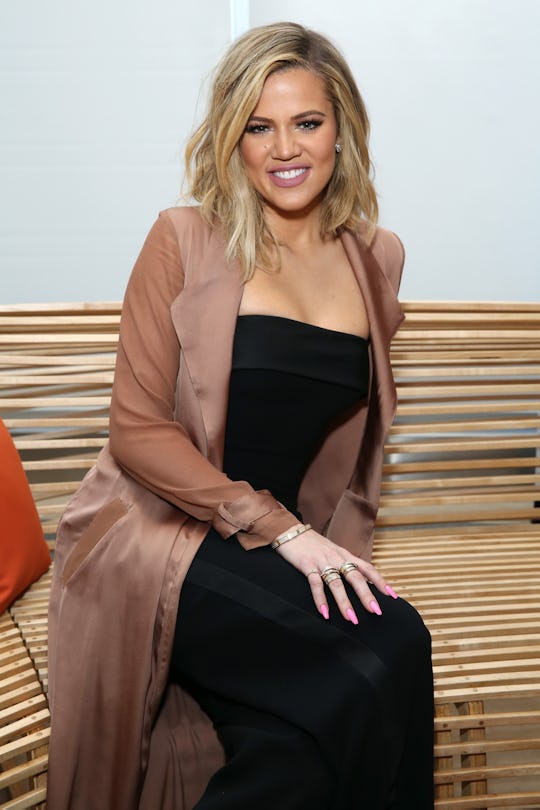 Cindy Ord/Getty Images Entertainment/Getty Images
Khloe Kardashian Tells Moms To 'Chill Out' In Instagram Video With North West
Being a celebrity mom — or caregiver in this case — is hard, if only because you're always at the mercy of judgemental social media users. In the wake of a bunch of celebs taking to social media to quiet their haters, Khloé Kardashian told haters to "chill out" in an Instagram post with North West. The video is of North popping up from a pillow as a plane lands talking about being excited to be"back home" (and adorably waving out the window to Los Angeles below her) while Kardashian tries to get her to smooch her. But in the caption she was quick to remember what people would mainly be watching for: North's seatbelt. Kardashian captioned the video with "chill out...She's in a booster car seat. I can hear you already! Worry about your own s--t. We good over here. TRUST."
Her preemptive call to calm down worked, too. Sort of. Many fans were lol-ing and cheering the reality star for thinking ahead about all the judgemental comments she might get. Still others were wondering why North wasn't just sitting in the seat without a booster. Of course, since it's social media, the fights began about what was the proper way to fly with toddlers. "I'm so confused, why would it matter if she's in a booster or not?," one wrote and the conversation devolved from there.
Kardashian's instinct was good, especially just for an aunt. Celebrity moms deal with parenting advice on their social media accounts all the time. New mom Chrissy Teigen has been getting it from her followers ever since she gave birth to her daughter Luna in late April. First, she went out to dinner with her husband John Legend a week after giving birth. Commenters hounded her for not spending time with her new baby. "The passive aggressiveness is real," she later tweeted about the "controversy."
And it's not just about the taking the hits as an individual. Just as the comments on Khloé's Instagram post quickly added up as parents bickered back and forth about car seats and safe airplane travel, Teigen, too, recently responded to her followers who hold 1,000 comment long fights with each other. "I can't have people threatening each other and losing their minds in extremely HARMLESS photos. It isn't something I will take anymore," the model and cookbook author wrote on Twitter.
She's right. No one has time to sift through comments that are essentially bullying either the celebs in the picture or fellow parent-patrol social media users. It's totally useless. That it could make social media diva Teigen think about leaving social networks altogether is pretty extreme.
Suit yourself, but I happen to like randomly spotting funny parenting tweets or super cute videos of North. The more we bully celebs for being themselves (and doing the best they can when it comes to parenting) on social media, the less we're going to get from them. And then it's back to the dark ages of supermarket tabloids to get a Hollywood fix. No one wants that.