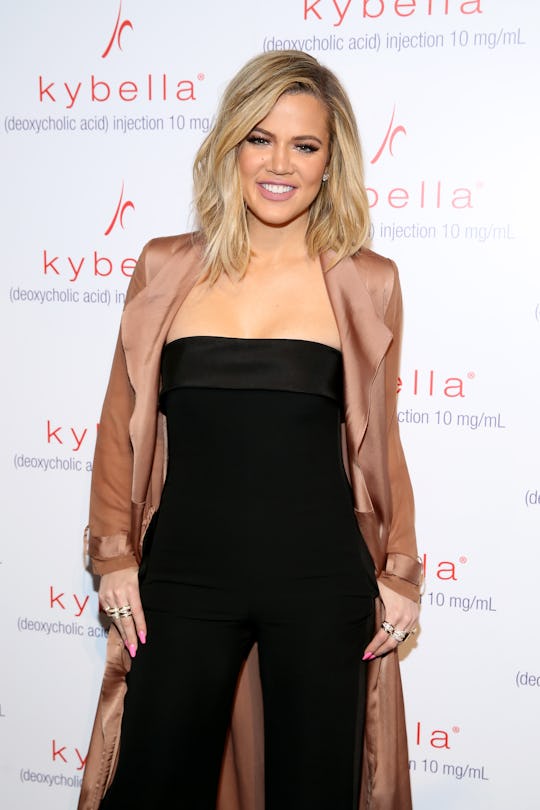 Cindy Ord/Getty Images Entertainment/Getty Images
These Are The Baby Books Khloé Kardashian Has Already Picked Out For True's Nursery
Throughout her pregnancy, Khloé Kardashian was very open on social media about everything she was going through, whether it was a random food craving or getting nostalgic about her "old body." So now that she's given birth to her baby daughter, fans are sure to get regular updates about what she's up to, and she's already started. In an Instagram Story on Monday, Khloé Kardashian shared the books she'll read to her daughter, True Thompson, and they're definitely good choices.
In the video, she took a picture of a pink plush animal and three books: Baby's First Bible Stories, Baby's First Book of Prayers by Melody Carlson, and God Bless You and Good Night by Hannah Hall. The books are definitely appropriate and a reminder that Khloé is actually very spiritual and devout. Robert Kardashian, her late father, was Christian Armenian, and the Kardashian kids have all gone to Catholic or Presbyterian schools. She wrote in a Lenny Letter that the family went to church every week and that her father would read the Bible to them on Sundays.
If you watch Keeping Up With The Kardashians, you've probably heard one or another sister mentioned praying on something or that they just want to follow "God's plan," but it's all sort of slipped in between the other things they do and say. But religion is actually a big part of the Kardashians' lives, especially Khloé's, who has repeatedly referred to God's plans and intentions when talking about her pregnancy, so it makes sense that True's first books are Bible stories.
Khloé has a really modern view of religion and the role it plays in her life. She wrote in her Lenny Letter, "I don't believe you need to be a certain religion to embrace someone else's religion. It's a matter of respecting someone. I'm a Christian but I don't think a church necessarily makes you religious." Khloé mentioned in her essay that she's dated people of all religions and respected them all. But, from what she has shared, it looks like she'll be raising baby True to be Christian. Khloé added in the same essay:
Believing in a higher power is what guides me to make the right decisions. While I believe in heaven and hell and angels and spirits, I don't judge people for their beliefs. And I don't understand how others can sit around casting judgments on people because they have different religions and a certain point of view.
The 33-year-old reality star and Good American founder has reportedly been having a rough time this month. Just days before True was born, there were videos posted online that purported to show her boyfriend, Tristan Thompson, and father of her child, allegedly with other women. Representatives for Kardashian and Thompson did not immediately return Romper's request for comment.
However chaotic her life might be as a new mom, Khloé appears to be centered by her friends, family, and especially her faith.
She wrote on her app this week, according to Entertainment Tonight, that she just wants everyone to be happy:
I genuinely wish for all of my siblings that they find everlasting happiness in all that they do! Life is short, and at times, we put so many others before us, but one of our priorities should be our own happiness. Once you have that, it trickles down to everyone around us. I sincerely wish happiness and peace to my sisters and brother.
Right now, Khloé's happiness seems to all come from dedicating time to her baby girl and picking out good stuff like these books to fill the nursery with. Which is really all a new mom can ask for, famous or not.
Check out Romper's new video series, Bearing The Motherload, where disagreeing parents from different sides of an issue sit down with a mediator and talk about how to support (and not judge) each other's parenting perspectives. New episodes air Mondays on Facebook.