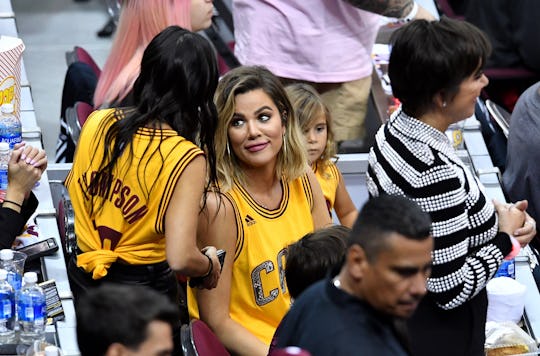 Jason Miller/Getty Images Sport/Getty Images
People Are Mad About Khloe Kardashian's New Photo With True For A Silly Reason
Khloé Kardashian seems to be in a pretty good space right now. She has her incredibly adorable baby girl True to hang out with on the regular, and fans of Keeping Up With The Kardashians all know that girl has been dying to be a mom since forever. But beyond being a mom, Khloé has also been working super hard to get in shape after her pregnancy. Because you are actually allowed to care about both of those things at once, just so you know. Apparently there are people who don't know, because Khloé Kardashian was criticized for this picture with True for the most mind-blowing reason. I guess she looked too good or seemed too proud of her body or something. How dare she?
On Friday, the Good American designer posted a beautiful picture of herself raising her 8-month-old baby girl over her head and kissing her little face. The picture also just happens to show off her super flat belly, something the new mom has been working incredibly hard to achieve. Khloé has been open about struggling with her weight gain during pregnancy, perhaps because she went through a body transformation in recent years that was highly publicized. Or perhaps because, prior to getting into shape, she was constantly criticized for being heavier than her sisters.
Well, it looks like this girl can't win, because now she's being criticized for loving her own damn body. Or just loving her little girl, when it comes to that.
To be fair, most people who commented on the Revenge Body host's picture were very positive.
Priceless photo! Koko you are an amazing mother... love you both. God bless you.
Awww... a mother and her adorable baby.
Still, there were far too many people bothered by the fact that Khloé might have been showing off her toned abs (and apparently the underside of her breast, how totally scandalous).
Such a bad example.
Is the pic about your baby or your boob? Or you lift your baby up deliberately to show your boob?
Why is your shirt up? Feeling bad about the photo.... baby doesn't need to be there.
Beautiful pic but try to show your boobs off a bit more.
Here's the thing; motherhood is not an "either this or that" situation. Are you a new mom who doesn't want to worry about getting in shape? Fabulous. Or maybe you prefer to hit the gym. That's also fabulous. There's no right or wrong way except judging someone else's choices. This, my friends, is absolutely the wrong way.
If Khloé Kardashian chose to take a picture of herself with her baby while also showing off her body, why is that wrong? All these sort of comments do is reinforce that old "either this or that" trope of motherhood. You can either be a good mom or you can be in good shape. It's utter nonsense. Every mom gets to be exactly the sort of mom they choose. And if they, like Khloé Kardashian, want to share a pic of their rocking abs while kissing their baby? More power to 'em.
This first-time mom wants to have a home birth, but is she ready? Watch how a doula supports a military mom who's determined to have a home birth in Episode One of Romper's Doula Diaries, Season Two, below. Visit Bustle Digital Group's YouTube page for the next three episodes, launching Mondays in December.