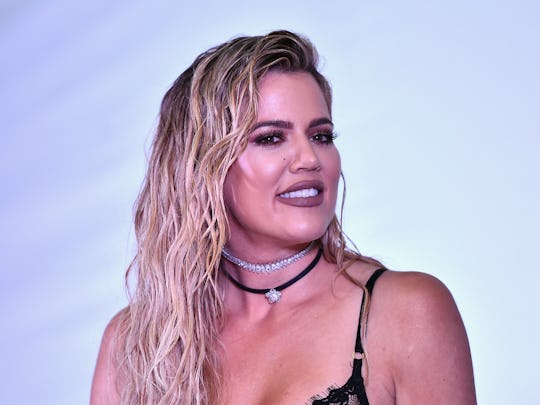 Alberto E. Rodriguez/Getty Images Entertainment/Getty Images
Khloe Kardashian Went After Critics For Calling Baby True 'Materialistic'
I'm going to let you in on a little secret here guys, there's this family called the Kardashians (or KarJenners if you want to combine the two last names of the Kardashian/Jenner clan) and they have a whole load of money. Like, buckets and buckets of it. Money from their reality show and also various marketing campaigns and businesses. So it probably shouldn't come as a surprise that their kids get awesome presents, right? Well, for some people it's apparently a real problem. In recent days, Khloé called out critics for calling daughter True "materialistic," and please let's all remember that True is a literal 4-month-old baby.
True Thompson is the daughter of Khloé Kardashian and Cleveland Cavaliers' basketball player Tristan Thompson. Ever since her birth in April, her mom has been enthusiastically taking to social media with honest conversations about how she's parenting her little girl as a first time mom. Khloé's Twitter feed has been lighting up with discussions about her struggles with breastfeeding, how difficult she found it to leave her daughter to go back to work, and questions about when to start little True in swimming lessons to name a few. And yet, when Khloé recently shared an adorable picture of True grinning away sitting in a child-sized Bentley, people were not having it.
Not that it matters, but for the record this hilariously opulent car was a gift from the Good American designer's friend Kimora Lee Simmons, as Khloé noted in the caption of the Instagram pic:
I'm not sure what's cuter, the cute teddy bear driving the Bentley truck or True's cheeks and smile. Thank you Auntie Kimora and family for the precious gift!
Plenty of fans looked at this picture and just saw a cute baby, a cool gift, and a proud mom. But some were quick to point the finger of judgment that seems to be ever in the direction of the entire Kardashian family. This time around people got all hot and bothered at the idea that True has an expensive present (around $350 on Amazon, so really not even close to the most lavish Kardashian baby present). Some even called the Revenge Body host out for raising True to be materialistic:
She'd look better doing a charity photo with other kids🙄🙄🙄 but your small minded so....
What do they grow up to be if they get Bentleys before they can even walk?
While the Kardashian family is certainly accustomed to people criticizing them, Khloé lost all chill when one of her Instagram followers lectured her about encouraging True to be "closer to God," according to Cosmopolitan:
She should of receive a cross or a bible so this child grows closer to God as opposed to embedding materialism into her brain.
To which Khloé replied so perfectly:
We read children's bible stories everyday and we say prayers every single night but you should not pass judgement either way. Why be so negative if you are a child of God? She's a baby who received a beautiful sweet gift and I was SOOO excited to put her in it and take a picture! I'm enjoying every single moment I can with my sweet angel! The angel GOD gave me!
I'm fairly certain that these sort of comments directed at the Kardashian family are meant to be a way to get the attention of other social media users and Khloé herself. But here's why I think her response is important; the new mom is sharing a solid example of how to defend your own choices and be true to yourself in the face of unjust criticism. Something most moms will unfortunately experience at some point or another.
Khloé made it clear that she feels comfortable with her choices. And hopefully other moms will see this and feel the same.