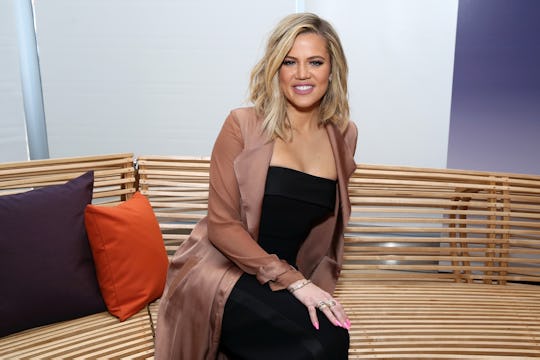 Cindy Ord/Getty Images Entertainment/Getty Images
Khloé Kardashian's Daily Routine With Baby True Will Make Every New Mom Say "SAME"
I miss the incredibly boring, exhausting routine of having a newborn baby. Only because when my life is boring and exhausting right now, there's nobody who really feels bad for me. Now it's just like, well, get off your butt and go do something with your day. Not nearly so satisfying. When you're the parent of a newborn, however, you get sympathetic nods and knowing smiles when you talk about your days with your baby, and it's balm for the soul. So when Khloé Kardashian shared her daily routine with baby True, I found myself reading with a sympathetic nod and a knowing smile. That's the way that the world goes 'round, I guess.
The 33-year-old mom of 6-week-old True Thompson took to her app on Tuesday to share a little insider info about how her days are looking now that she's a mom. And it doesn't sound much like the ultra fabulous life of a reality television star fans might expect. Instead, it sounds like pretty much the exact same schedule of every parent of a newborn. I guess because babies don't actually care if you're famous or not; they're always just going to do whatever they want to do. And when they're tiny, that amounts to a whole lot of nothing.
As, as Us Weekly reported, the Revenge Body host noted on her app:
The truth is, all babies do is eat, sleep, potty, REPEAT for weeks.
So babies like to eat, sleep, and potty, do they? Where have I heard a similar routine? Sharks. Apparently sharks and newborn babies have more in common than you might think.
Khloé isn't complaining, of course; far from it. In fact, she admitted that she is sort of reveling in the routine because that tends to be how she rolls. "I love a routine, so not going to lie, this works for me," she wrote on her app, according to Us Weekly.
The Good American designer's boyfriend and True's father, Cleveland Cavaliers' player Tristan Thompson, confirmed that the baby's schedule is decidedly monotonous. He told the Road Trippin' podcast, "Baby True is eating, sleeping, and s-tting. That's all they do."
When the baby does finally decide to start moving around and doing stuff, she apparently has a pretty amazing baby nursery full of cool baby stuff to enjoy. Khloé wrote on her app on Tuesday, as reported by Us Weekly, that she had gone a little overboard with the baby nursery:
When I was pregnant and getting the nursery ready for True, I was so excited to fill it up with anything and everything I thought i might need. And over a month in, there are a ton of products I still haven't used.
There's one slight drawback to having a baby who sleeps around 17 hours a day (which is the average amount for a baby under 3 months, according to Baby Center); too much time on social media. After staying pretty much silent on Twitter in the weeks after True's 2 birth on April 12, especially considering the leaked footage that purported to show Thompson allegedly with other women while Khloé was still pregnant, lately KoKo's been speaking her mind. Like, frequently. And while her tweets have been thinly veiled, they've been pretty biting.
To be fair, the combination of hormones, lack of sleep, and constant social media chatter about your life would be a pretty toxic cocktail to swallow. Who can blame her for getting a little ranty on Twitter? I've ranted much worse than that for getting a parking ticket that I actually deserved to get.
Whatever else might be happening in Khloé's life, boyfriend drama or people judging her for exercising or whatever else, one thing is clear: she loves being a mom. Even the boring parts. And this bodes well for her future.