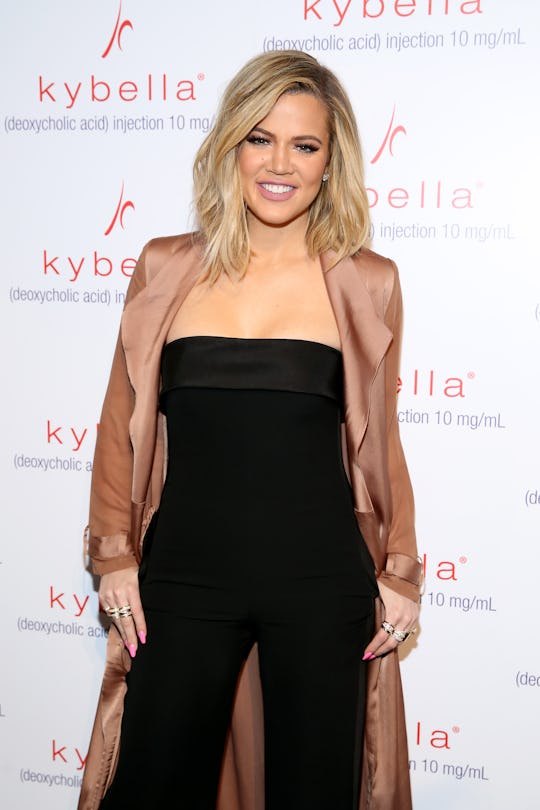 Cindy Ord/Getty Images Entertainment/Getty Images
Stop What You're Doing, Because Khloé Kardashian's Daughter True Met An Adorable Puppy
There is nothing better than a baby except a puppy and a baby. This we all know to be true. If you want to feel almost sick to your stomach with joy and belief in the goodness of this world, put a fluffy puppy up against a little baby and be ready to lose your mind. In fact, this video of Khloé Kardashian's daughter True meeting a puppy, which she shared on Snapchat, is just too dang cute for this world. And after watching this sweet interaction, everything about my day just got significantly better.
True Thompson, the daughter of Khloé Kardashian and Cleveland Cavaliers' player Tristan Thompson, is now at that extra delicious stage of baby years. She was born on April 12 which makes her nearly 5 months old. As a fan of babies, I can tell you this is when it gets good. They start getting really animated about everything around them, they laugh and best of all, they start to really recognize all of the people who love them. In other words, this is the perfect time to consider introducing a very fluffy puppy into True Thompson's life.
Clearly her mom agrees.
In the video, which I may or may not have already watched three or more times, the Good American designer is holding True close to a sweet, fluffy brown puppy. She is manipulating her daughter's arms to get closer and just giggling away with happiness. Khloé, I mean. Not True. You can tell in the video that all Khloé wants is for this baby/puppy friendship to happen immediately.
For her part, True sort of seemed more interested in the camera.
The Revenge Body host didn't say whether or not this puppy had been adopted for the family at this point, although the timing would make a lot of sense for several reasons. First of all, True is at age where she isn't terribly mobile yet, meaning that she and the puppy shouldn't run into any issues that can often arise with small kids and puppies, such as the tail pulling, the nipping, the jealousy and so on, according to Parents. Sometimes when a dog is there before the baby, tensions can crop up. So no problem there.
Also, I'm sure we all remember that Khloé lost her dog Gabbana when she was seven months pregnant, according to E! News. Gabbana had been with her for 14 years, and it was obviously a pretty terrible loss at the time. Khloé shared some gorgeous pictures of the two of them together on Instagram at the time with the caption:
Last night my sweet Gabbana passed away. She was more than a pet. She was my first child, my companion and my friend. She was incredible!
Perhaps sharing a new puppy with her little girl would be healing for Khloé. Or maybe she just saw a really cute dog and wanted to see how her baby girl would react. She's not saying, but if I were a betting gal I would say she's considering a new puppy.
This moment between True and the unnamed puppy was probably a welcome respite from all of that Keeping Up With The Kardashians in-fighting fans have been watching recently. There appears to be a bit of tension between Khloé, Kim, and Kourtney, according to Cosmopolitan. Whether it's real fighting or staged fighting I'm telling you right now it's way less interesting than seeing True sort of cuddle a puppy.
So perhaps the next season of KUWTK should have more puppies and less fighting. You're welcome for the brilliant idea.