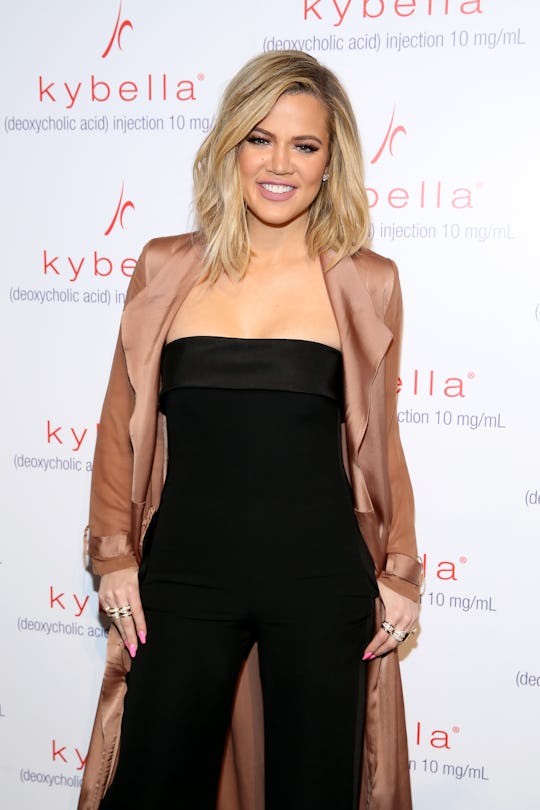 Cindy Ord/Getty Images Entertainment/Getty Images
Khloé Kardashian Shared True's Birth Chart & All Signs Point To One Strong-Willed Girl
Sometimes you don't want to know everything about your future, you know? I mean, if I had known what parenting four boys would eventually do to my body and my sleep patterns, I might not have been quite as excited about becoming a mom. Apparently not everyone is on the same page as me, even though it's admittedly quite interesting to learn. One new mom even went so far as to have her baby girl's birth chart read to get a sense of who she might be, and according to her birth chart, as she shared on her blog today, Khloé Kardashian's daughter True might be "a bit rebellious." So I guess she should start preparing herself now.
For those of you who don't know what a birth chart is, it's an astrological map of where all the planets were in their journey around the sun on the day you were born, according to AstroStyle.com. "An astrology chart reading can reveal your strengths and weaknesses, your opportunities for soul growth, the best timing for your most important moves," the site noted. And little True Thompson, who was born on April 12 to mom Khloé and dad Tristan Thompson of the Cleveland Cavaliers, had hers read by someone who is reportedly one of the best in the business: Astrology "legend" Susan Miller, per Khloé's description.
Miller is apparently the personal astrologer to the Revenge Body host, which is a good thing because her website notes that she no longer does personal birth charts for other people. On Thursday, Khloé shared the results of "True's personality predictions" on her website, KhloeWithAK, and they were genuinely kind of interesting.
And before you go scoffing about horoscopes in general, Khloé admitted she's something of a scoffer herself, with caveats. "I'm not really a believer in daily horoscopes, but I definitely think our personalities are affected by our signs," she wrote on her site.
She added in the post that "birth charts are confusing AF aside from the basics." Khloé went on to explain, "True's sun sign is Aries, her rising is Aquarius and her moon is in Pisces. But Uranus is conjunct with the Sun? Venus in Taurus? What does that all mean!?"
If you're confused, you're not alone. Khloé wrote on her blog that she asked Miller to "break down True's chart in layman's terms." So without further ado, here is what the world can expect from True Thompson in the future, according to Khloé's website.
As Khloé shared in her post on Thursday, Miller predicted that True is "extremely creative and an independent thinker, but is a bit rebellious" and that "she can't be told do something without a good reason."
"Watch out, Khloé, 'because I said so' won't work on her!" Miller noted, according to Khloé's post. Miller also predicted that True, according to the post, is "both very smart and powerful, making her a pathfinder, striking out in new territory."
In other words, this little girl could end up being a real handful. Which is sort of funny, considering Khloé was known as having a pretty rebellious streak as a young girl herself. She even moved out at 16 and rented a house with an older man (rapper The Game), according to The Mirror. Here's hoping True just rebels with a goofy haircut or something.
When it comes to having the skills to pay the bills, True clearly has a lot to live up to. Her mother is a multi-faceted entrepreneur, author, and television star while her father plays for the NBA. But who did Miller say the baby might take after? According to Khloé's website, she's going to be "incredibly talented" in several ways:
She's very musically inclined and needs to learn a musical instrument ASAP—or she might be more interested in ballet... She's a great negotiator, strong businesswoman and is good with money...
Miller also predicted that True could have a future one day in screenwriting or acting "because her north node is in Leo," according to her prediction on Khloé's post.
I don't know how much of this astrology stuff is true, but I can tell you that I'm completely riveted and now want this done for all of my sons and myself posthaste. As for True Thompson, it seems to be written in the stars that she will have a bit of a rebellious streak in her, but otherwise she'll be a heck of a girl to contend with. My kind of kid.