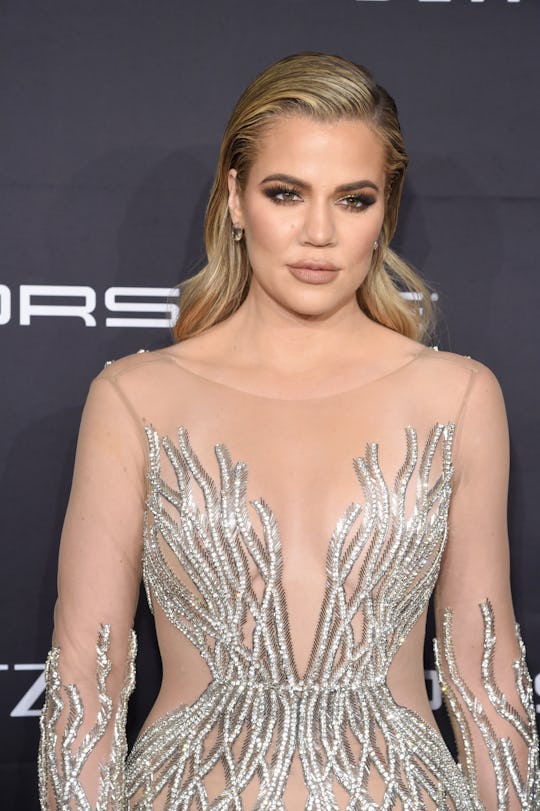 Jamie McCarthy/Getty Images Entertainment/Getty Images
Khloe Kardashian's First Appearance In The Kardashian Christmas Card Photo Is, Um, So Confusing
It's probably the biggest "Is she or isn't she" story of the year: the ongoing saga of Khloé Kardashian's reported pregnancy. Bump Watch 2017 has become a national pastime, as the Good American designer drapes herself in loose clothing and slyly refuses to say whether she is indeed expecting her first child with boyfriend Tristan Thompson of the Cleveland Cavaliers. Now Khloé Kardashian's first appearance in the Kardashian Christmas card has arrived, and, honestly, I don't know what to think anymore.
In the picture, Khloé is in the background holding her niece Dream, the daughter of brother Rob Kardashian and his ex-fiancée, Blac Chyna. And Bump Watch 2017 followers? I don't know about you but I don't see a bump. And considering several media outlets have been reporting that the reality star is expecting a son with her NBA player boyfriend Thompson in the new year (her pregnancy was initially announced at the end of September), shouldn't she be somewhat sort of showing? (I mean, every pregnancy is different but still.) If she is due around the end of February, as sources have claimed in multiple media outlets including The Insider, that would mean Khloé is at least six months pregnant. Judging by the Christmas card photo... the girl does not look to be pregnant at all, let alone in her third trimester.
Kardashian fans have been keeping a close eye on the 25 days of Christmas cards in 2017, which sister Kim Kardashian West has been sharing on Snapchat and Twitter, to get a look at two of the sisters in particular: Khloé, of course, and the youngest member of the KarJenner clan, 20-year-old makeup mogul Kylie Jenner. Jenner has also been suspiciously absent on her social media feeds in recent months, ever since news broke at the end of September that she is reportedly pregnant for her first child with boyfriend and rapper Travis Scott. Jenner, much like her older sister, has been coy about confirming or denying her pregnancy news. So when Kim started to release the 25 days of Kardashian Christmas cards, many fans figured it was go time.
After all of the build-up, all of the Bump Watch and speculation and conjecture, you can understand why Khloé's first appearance in the Kardashian Christmas cards was a bit disappointing. But don't go thinking this has somehow closed the door on a possible pregnancy for Khloé ... think again.
First of all, remember that Kardashian West has only delivered 13 of the 25 days of Christmas cards. There are 12 more days to go. And when you look closely at the picture of Khloé (I'm not proud of myself for really digging in to investigate, but there you have it), it's taken from the front, not the side. And it's pretty far away. Also, the photo shoot happened in November, according to Kardashian West. That's a whole month ago.
Then there's the whole theme of the Kardashian Christmas card; so far, the next generation of Kardashians has been the focus.
Wouldn't it make perfect sense for Kylie and Khloé to announce their own pregnancies at the end of the photo shoot, especially since all of the Kardashian grandchildren have been front and center? After all, Kim Kardashian admitted to Entertainment Tonight that having the kids around for the photo shoot was a bit of a headache:
I organized the Christmas card this year and I'll never do it again. Just to wrangle ever single family member was so exhausting. I thought it would be really easy. It was really tough.
In my world, I'm still thinking a Khloé Kardashian pregnancy is a reality. No matter how non-pregnant she might have looked in the Kardashian Christmas card. Call me crazy, but I just sort of believe in magic.
Check out Romper's new video series, Romper's Doula Diaries:
Watch full episodes of Romper's Doula Diaries on Facebook Watch.