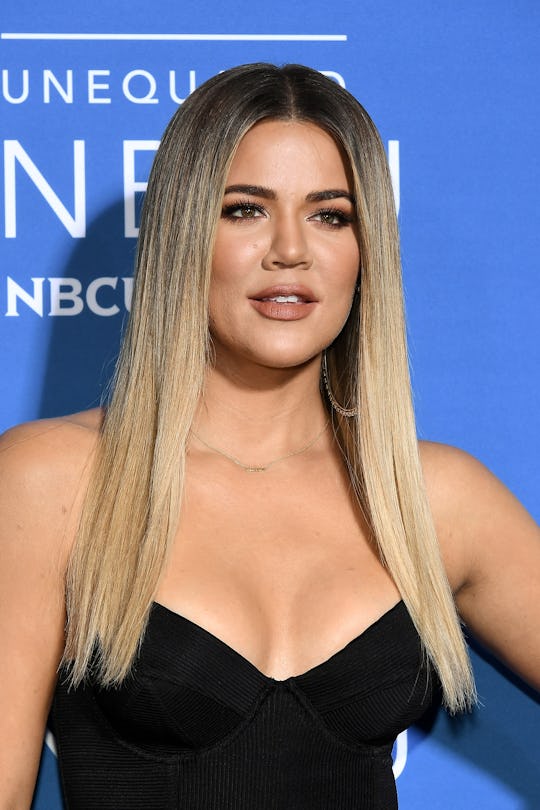 Dia Dipasupil/Getty Images Entertainment/Getty Images
Khloe Kardashian's Food Aversions During Pregnancy Are Basically A Whole Food Group
For me it was eggs. For my best friend it was citrus fruit. For another friend it was peanut butter, crunchy specifically. Pretty much every pregnant woman I have ever known has that thing she can't eat. Because our bodies want what they want when we're pregnant, and we get very little say in the matter. So too it is with Khloé Kardashian. It seems Khloé had a food aversion throughout her pregnancy, and for her it was an entire food group. Because go big or go home is probably the Kardashian family model.
Khloé is due to give birth pretty much any day now, and as her pregnancy is winding down she's giving fans more behind-the-scenes glimpses of what her particular journey has looked like. The Good American jean designer has taken to her app to talk about her time in Cleveland with boyfriend, NBA basketball player Tristan Thompson, as the two await the arrival of their daughter (Thompson is the father of 1-year-old son Prince with ex-girlfriend Jordan Craig). The two have been going for walks together and binge-watching reality television... although not Keeping Up With The Kardashians. I guess that would be more like watching home movies for Khloé. She admits she's been catching up on Real Housewives If New York. And what does the Revenge Body turn to for her binge-watching snack of choice? Well, it certainly isn't going to be a meat product.
As Khloé wrote on her app in a post entitled "This Food Has Repulsed Me During My Pregnancy" on Friday that she might not have been a big meat eater before pregnancy, but these days it's all a serious no-no:
Before pregnancy, I really only ate chicken or turkey — no pork, red meat, most fish, lamb, etc. But now, I find meat absolutely disgusting LOL. Just the sight of it makes me nauseous.
If she's not nibbling on a steak or a leg of lamb or whatever, exactly what has she been eating?
So, I've become somewhat of a vegetarian during pregnancy, but not by choice. Now that I'm nearing the end of my pregnancy, it doesn't repulse me as much anymore. I wonder how I'll feel about meat after I give birth!
Some other women commented on Khloé's Twitter feed with their own aversions during pregnancy, food-related and otherwise.
Of course, there was the odd person who wanted something else from Khloé... to have her baby. Which I sort of get, it does feel like it's been forever.
According to Healthline, food aversions during pregnancy are likely caused by the same pregnancy hormone that triggered your pregnancy test to come back positive, human chorionic gonadotropin (or hCG). This is also the same hormone that causes food cravings during pregnancy. Food aversions can also be triggered by morning sickness, The same hormone that triggers morning sickness could cause food aversions, or you could be associating your morning sickness with food you might have been eating at the time.
Throughout her pregnancy, Khloé has been open about giving in to her food cravings if they happen to crop up. As she said in an interview with Lorraine magazine, "I give into cravings — like if I want a donut, I'll have a donut. I'm not super crazy." But she has also stayed committed to staying active, just to keep things balanced.
Whether or not she'll continue to avoid meat after welcoming her little girl is anyone's guess, of course. I mean, I was back to eating eggs pretty quickly. But here's what we do know... she needs to have that baby soon. Because the wait feels like an eternity.