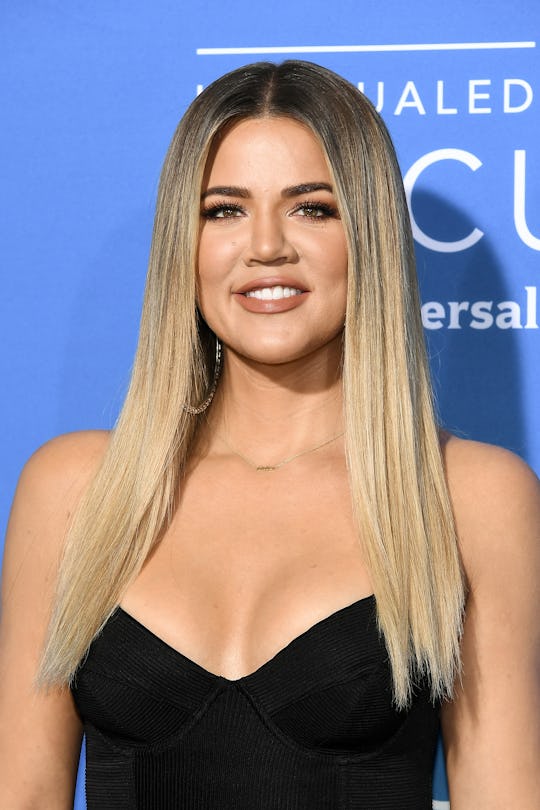 Dia Dipasupil/Getty Images Entertainment/Getty Images
Khloe Kardashian Shared A Cryptic Message About 'Deep Love' On Instagram
Khloé Kardashian has gone through a massive life shift in 2018. She moved to Cleveland to be closer to her boyfriend, Cleveland Cavaliers player Tristan Thompson. She became a mom for the first time to sweet baby girl True on April 12. And as many people remember, she was also publicly embarrassed just hours before giving birth when Tristan allegedly cheated on her and was caught on video. Now, as the year is drawing to a close, the Good American designer is getting reflective about who she is and what she wants. And if Khloé's message about wanting "deep love" is any indication, she seems to be on a real journey of self discovery.
The Keeping Up With The Kardashians star found herself in an awkward position on Sunday night when the episode where she gave birth to her little girl aired. Unfortunately, that moment in her life was a bit of a mixed bag of emotions; the day before she gave birth, her youngest sister Kylie Jenner had to be the one to tell her that a video of Tristan allegedly cheating on her with another woman (although to be fair, Tristan has never confirmed he was the man in the grainy video). Since all the drama unfolded, Khloé moved back to her Los Angeles home and then again back to Cleveland for the 2018-2019 basketball season. It's a confusing situation... most of all for Khloé, it seems.
On Monday the Revenge Body host shared a picture of herself on the beach in Bali with a somewhat of a cryptic caption:
"I crave a love so deep the ocean would be jealous" one of my favorite quotes ❣️PS Hrush is a bomb photographer
It had to be incredibly sad and difficult to watch that episode of KUWTK on Sunday night, and it would have most definitely brought back some unhappy feelings. As Khloé herself live-tweeted during as she watched the events unfold on Sunday night:
Oh my God my heart is racing! So crazy how emotions never die! You may forgive but forgetting is not possible
Here's the thing; I think almost every person on the planet truly feels for Khloé. Especially those fans who watched her fall so deeply and securely in love with Tristan in 2017. After struggling through a difficult marriage with former NBA player Lamar Odom years earlier, who she married after dating for three weeks in 2009, Khloé was very open about her excitement to be with Tristan. And when the two found out they were expecting a baby together? She was over the moon.
These days, however, the new mom seems more contemplative. Very focused on her little girl and learning to find her own way as a mother.
And if this quote about wanting to find "deep love" is any indication, Khloé is also getting cerebral about her expectations in relationships. Whether she hopes to find that deep love with Tristan or with someone new remains to be seen, but here is what I know for sure; everyone deserves to be loved deeply. Here's hoping Khloé finds that for herself.