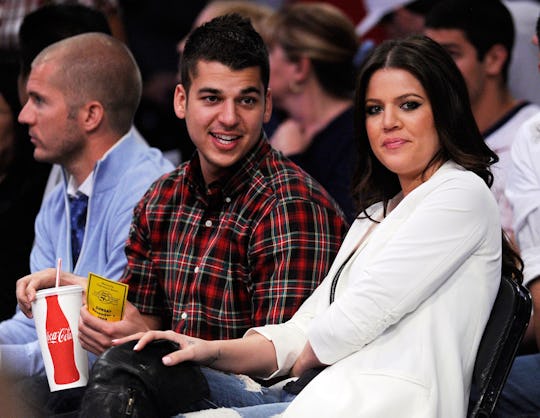 Kevork Djansezian/Getty Images Sport/Getty Images
Khloe Kardashian Sent Rob A Sweet Father's Day Message
Anyone who has watched Keeping Up With The Kardashians over the years knows one thing for sure; Khloé Kardashian always has her brother Rob's back. No matter what has happened in Rob's life, whether he was retreating from the world or struggling publicly with an acrimonious split, she's always in his corner. Perhaps especially now that they're both parents and have that extra bond. Khloé's message to Rob for Father's Day is a sweet testament not only to their solid relationship, but also to Rob's progress as a parent to his little Dream.
Rob is the youngest of Kris Jenner and Robert Kardashian Sr.'s four children together, and the only son. As we all know, Jenner had two more daughters, Kylie and Kendall, with Caitlyn Jenner prior to their split in 2013. While his sisters are all social media pros, Rob Kardashian seems to have had a tough time finding that balance. Prior to his relationship with ex-fiancee Blac Chyna, Rob was rarely seen and almost never on the family's hit reality series. He had a bit of time in the limelight with his short-lived series, Rob & Chyna on E!, which documented the couple's new relationship and Chyna's pregnancy with the couple's daughter, Dream, who was born in November 2016.
Then things went south for Rob. Way, way south. Without rehashing too many of the cringe-worthy details, he and Chyna split up and Rob unleashed a tirade on Instagram (complete with nude photos of his ex shared without her permission) that saw him barred from the social media sharing site. The feuding couple battled it out in court for custody of their daughter, and things seemed pretty bleak for the new father.
Since then, it seems the drama has died down for the most part. Rob shares joint custody of Dream with Blac Chyna, and other than a few resentful Instagram posts here and there (because hey, breakups are tough I guess) he does appear to be pretty focused on his little girl. And Khloé wants to honor his progress as a dad for Father's Day. Especially because it apparently reminds her of their own father, Robert Kardashian Sr. She took to her app on Friday to share a sweet message to her brother, as People reports;
My brother Rob is like my father in so many ways — his sense of humor, silly nature, the way he loves and respects family.
Editor's Note: The Instagram post has since been deleted.
She went on to gush that her father would be so "proud" of the kind of father his son has turned out to be:
My dad would do anything for his kids and my brother is the same way for Dream. I'm so proud of him!
Rob is also making certain things a priority in his life these days, according to Khloé. She said that her father would be "really proud that Rob wants to implement his Armenian roots into Dream's upbringing." As a new mom herself, to 2-month-old baby girl True Thompson, Khloé also got a little emotional about how her father might feel knowing his grandchildren are close.
It would mean so much to him that all of his grandchildren are so close. It's family over everything and I love that my brother is the same way.
Rob Kardashian has obviously struggled to find his footing as a father, and he's certainly not the only one to ever have a tough time finding his way as a parent. Especially when you add a pretty heartbreaking split into the mix; the guy is human and it obviously wasn't easy. So it's truly great that his sister took time out of her day to acknowledge his progress... and to tell him that he would make his father proud.