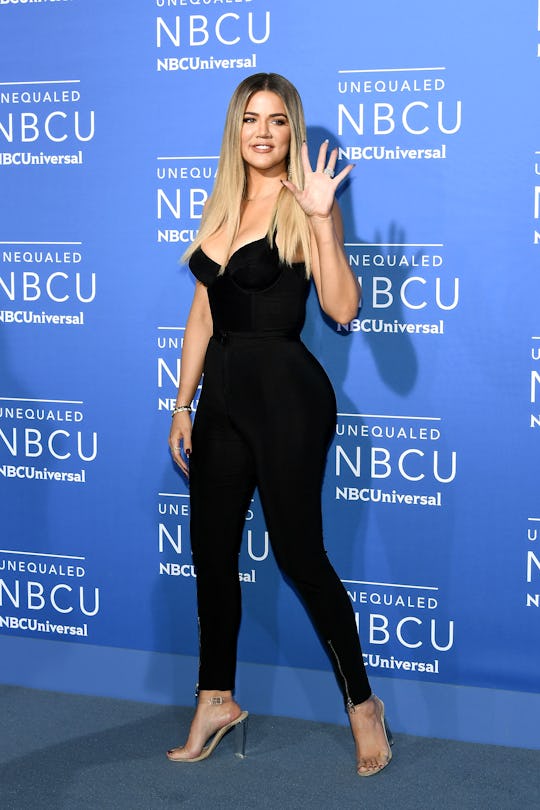 Dia Dipasupil/Getty Images Entertainment/Getty Images
Khloé Kardashian's Most Honest Pregnancy Moments Are So Damn Relatable
If you've ever seen an episode of Keeping Up With The Kardashians, then you already know the reality TV family isn't exactly afraid to speak their minds. But perhaps more than anyone, it's Khloé Kardashian who has consistently been the one to tell it like it is (often with hilarious results), and honestly, her willingness to be so open is really endearing. That hasn't changed at all now that she's expecting her first child though — unlike younger sis Kylie Jenner, Kardashian has been happy to share the details on her pregnancy —and Khloé Kardashian's most honest pregnancy moments are just another reminder of why she's so awesome. 
To be fair, Kardashian hasn't always been totally forthcoming about her pregnancy: prior to officially confirming the news in an Instagram post in December, the Revenge Body star had kept the news under wraps for months, according to People. But now that everything is out in the open she seems excited to share her journey with fans, even turning to Twitter for answers to her most pressing pregnancy questions. The best part though, is that, despite her celebrity status, Kardashian's approach to pregnancy is totally relatable. While some stars might step out of the stoplight while expecting, or give the impression that gestating a human is the most blissful, life-affirming, wondrous experience of all time, Kardashian doesn't seem to feel the need to be anything but honest about what she's going through.
The Way Her Body Has Changed During Pregnancy
If you've ever been pregnant, then you know that, as wonderful as the miracle of life may be, the way it affects your body isn't always pretty. Even if you're psyched to welcome your growing bump, it can be hard to accept that that can also mean stretch marks and cellulite and the inability to properly shave your legs in the shower unassisted.
Some mamas, to be sure, seem able to welcome these changes easily, but Kardashian isn't necessarily one of them. On Twitter, the pregnant star discussed pregnancy weight gain, and even joked that one of "the perks of being chubby previously" is that she hasn't actually developed any new pregnancy stretch marks.
Straight-Up Talk About Her Pregnant Sex Life
In February, Kardashian opened up in an post on her website about the way her pregnancy was affecting her sex life, and in true Khloé style, she wasn't afraid to keep it real. Kardashian wrote, "I have always heard that women are extra horny when they're pregnant, but for me it's been interesting," according to E! News, and explained that as she got further along in her pregnancy "it became harder to have sex and a little more uncomfortable and limiting."
More than just the physical difficulty though, Kardashian also said that having sex while pregnant felt kind of unsettling. She wrote,
I'm sure it's uncomfortable for a man to have sex with a pregnant woman too. Personally, I get uncomfortable and insecure. Also, you can't move the same, so you kind of feel useless, LOL. But you just have to improvise and do the best you can.
Her View On Unsolicited Pregnancy Advice
There's no question that Kardashian hasn't had to look very far when it comes to getting answers about her pregnancy questions — not only has her mother given birth six times, but three of her sisters have also given birth (and Kim and Kourtney have both been pregnant multiple times). But the downside of that, is that, well, you can end up getting a lot of opinions you haven't actually asked for.
In January, Kardashian told Entertainment Tonight that her sisters' advice was starting to bother her:
[I get] a lot [of advice from my sisters]. Too much. I've gotten to the point... I'm like, 'OK, shut the f**k up and take your own advice.' Like, I love Kourtney, but... I'm going to figure it all out, I promise you. We're all going to learn. So some advice is great, but it's also not what you say, it's how you say it.
She also explained to Jimmy Kimmel that while she definitely wants her mom, Kris Jenner, to be with her when her first child is born, anyone else present will simply be "whoever is going to be the calmest," and "whoever will annoy [her] the least." Perhaps whoever managed to keep their mouth shut instead of continuing to give her unwanted pregnancy advice?
Getting Real About Cravings
No matter how much you might want to have the healthiest pregnancy of all time, the truth is that food aversion and cravings can sometimes quickly overpower even the most noble of intentions.
Early on in her pregnancy, Kardashian made it clear that she wanted to take a balanced approach to her pregnancy diet, and in January, Kardashian tweeted that cereal was one of her pregnancy cravings (she'd had three bowls for lunch). In February though, she'd definitely upped her craving game: she tweeted that she wanted spaghetti with "a side of strawberries and whip cream," only to tweet again two minutes later to say she'd changed her mind, and now wanted pancakes. Ten minutes later? Kardashian was ready for an ice cream sandwich (the struggle is so real, honestly).
Most recently, Kardashian updated fans on her pregnancy eating habits in a blog post Wednesday, and shared that she'd "been eating like a beast," according to Us Weekly. She wrote,
In [my] second trimester, I was giving in to my cravings in moderation — but now in my third, I just don't have the self-control I used to have. Like it seriously all went out the window in my eight month!
Admitting Her Early Pregnancy Fears
So far, Kardashian has had a relatively awesome pregnancy, despite all the normal challenges and hangups. But she did tell Lorraine that, at first, being pregnant wasn't exactly easy, according to BuzzFeed — especially because she'd heard about all the things that could go wrong. Kardashian said,
Honestly, I feel so lucky. I hear horror stories and [my pregnancy] right now has been really easy. The very beginning is challenging, because you feel so out of place. You know, I've never experienced this before. I think you're the most sick, and nobody knows you're pregnant. So, I think the beginning is the most challenging. I'm not sure what the end is going to be like, but, for right now, I'm doing pretty well.
Even though the Kardashians seem to live a pretty incredible life, it has to be challenging to go through a pregnancy in the public eye. You're dealing with so many unexpected changes you can't possibly anticipate, and as much as it's exciting, the anticipation of welcoming a child into the world can also be hugely nerve-wracking. Then, on top of it all, it seems like the whole world has something to say about everything you say and do.
Despite that, Khloé Kardashian hasn't seemed to let any of it get to her, and it's pretty cool to see that she's taken a totally realistic, open-minded approach to being pregnant. Best of all, her willingness to talk about it is a reminder to other women that it's totally normal that there may be pros and cons to being pregnant, and her honesty is so refreshing.
Check out Romper's new video series, Bearing The Motherload, where disagreeing parents from different sides of an issue sit down with a mediator and talk about how to support (and not judge) each other's parenting perspectives. New episodes air Mondays on Facebook.