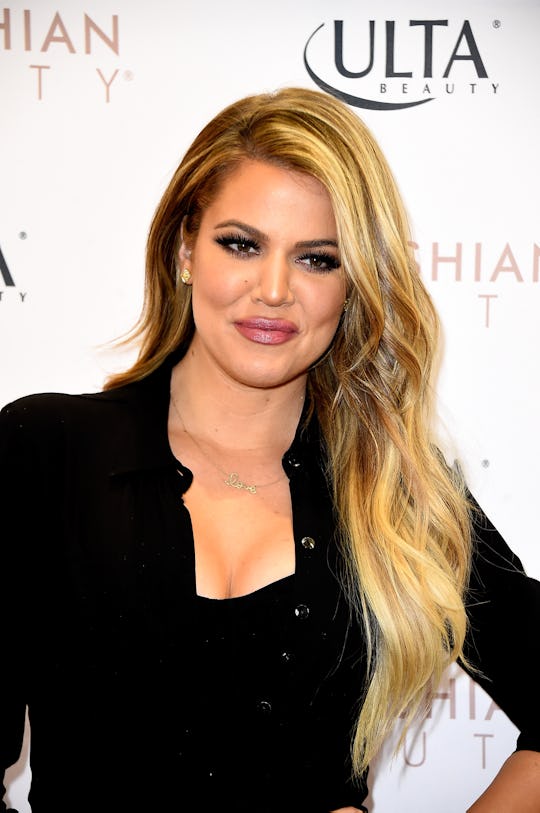 Frazer Harrison/Getty Images Entertainment/Getty Images
This Gross, But Familiar Part Of Motherhood Has Totally Surprised Khloé Kardashian
Parents talk about poop. A lot. I never discussed this bodily function before I became a mom, but once I had kids I became that person you don't want to sit beside at a dinner party. I assumed everyone else in the world was just as excited about my baby's bathroom habits as I was, and even if they weren't that was just too bad. Apparently celebrity moms aren't all that different. In fact, Khloé Kardashian's newest Snapchat is all about loving this surprising part of parenting and it brought me back to the days when my baby's poop was the best game in town, every day.
The Revenge Body host and her boyfriend, Cleveland Cavaliers player Tristan Thompson, welcomed daughter True Thompson on April 12. The family has settled in to life in Cleveland, away from the rest of the Kardashian/Jenner clan who are all still situated in Calabasas outside Los Angeles. But don't go worrying that the 33-year-old first-time mom is getting bored without her sisters close by. On the contrary, she seems to be having a real blast with her baby. So much fun, in fact, that even the little girl's poop is bringing her great joy. As Khloé shared in a Snapchat video on Thursday morning, according to People:
One thing about motherhood that I didn't know is that every time baby True goes potty, it is like a party in here. And I cheer, and it's like a poop party. I go, "Oh my Gosh, Mama, I'm so proud of you! You went potty!"
Talk about your lifestyles of the rich and famous, am I right?
Khloé went on to explain in the Snapchat video why her little girl's bowel movements were so important to her:
The joys of motherhood. And it's the little things that make us happy. Because I know her tummy's feeling good and her digestive system is working. I didn't know these things would excite me. My, how things have changed.
As gross as all of this might sound, the new mom isn't wrong about paying close attention to her daughter's poop. This bodily function, no matter how gross, is actually one of the best indicator's for a child's overall health that a parent has at their disposal. Sure, it's not all that appealing to discuss it at the dinner table. But when you have this little person who can't tell you if they're ill and they mean everything in the world to you, can you blame a gal for getting all wound up about poop?
There's also the fact that babies don't really do anything of note in those first few months. As the Good American designer noted on her app on Tuesday, all True does these days is "eat, sleep, and potty," according to Us Weekly. So when your kid is only doing, like, three things max, it makes sense that you're going to get weirdly excited over every little thing they do.
Khloé is obviously doing more than just celebrating all of her daughter's number twos. She's back to her exercise regime, something she admitted to People that she really missed during her pregnancy. Plus she's really making a meal out of using filters on her social media; good luck seeing any pics of her without a silly nose or freckles or animal ears of all kinds. It's basically her favorite thing these days, I think. Little True is apparently on a good schedule, according to Khloé's app, which makes things easier as well.
In other words, life seems to falling into place for the new mom — baby poop talk and all.