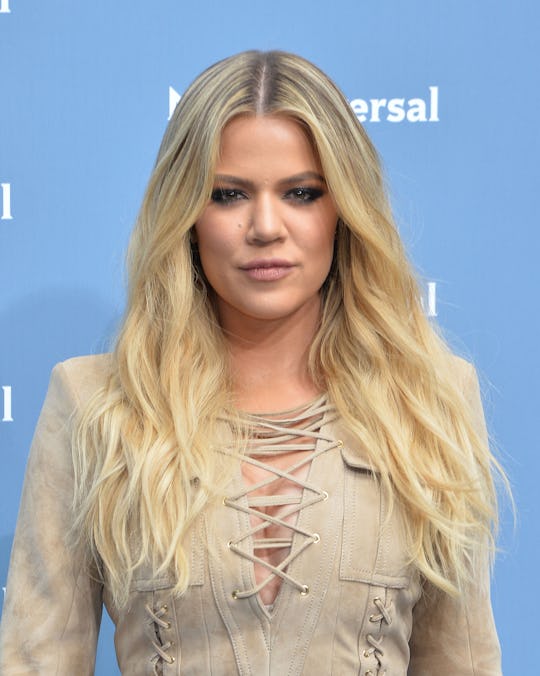 Slaven Vlasic/Getty Images Entertainment/Getty Images
Khloé K Is Reportedly Turning Her Closet Into Her Baby's Nursery For A Sweet Reason
Ever since confirming the news of her coming addition to the family, Khloé Kardashian has been sharing even more details about her pregnancy journey with fans who are eager to learn more. And most recently, according to TMZ, Kardashian is reportedly preparing her baby's nursery by transforming her famous walk-in closet into a special little room for her baby for an incredibly sweet reason. Kardashian reportedly chose to this room for her baby's bedroom because she wants the nursery to be "as close to hers as possible," TMZ reported.
Making a space specifically for baby is many moms' favorite part of the preparation for parenthood, and it sounds like Kardashian feels just the same. And at six months along in her pregnancy, Kardashian is reportedly busy with renovations to her Calabasas house, according to TMZ. The massive closet-turned-nursery has been featured on numerous episodes of Keeping Up With The Kardashians and was originally intended to be a bedroom of its own when she purchased the house from Justin Bieber and moved in back in 2014, according to the Daily Mail.
The source who spoke with TMZ reportedly shared that the mom-to-be is not holding back when it comes to spending on her bundle of joy and his or her new room. Between the elaborate furnishings for the room — what I would imagine will be very trendy decor — and lots of adorable baby clothes, this project likely comes with a hefty price tag. But considering both Kardashian and boyfriend Tristan Thompson's estimated net worths, it's not entirely surprising that they'd make this room as luxurious as possible.
No photos have been shared of the room yet — potentially because they would give away the sex of the baby, which has yet to be announced — but they may be shared after the renovation is finished. Many moms experience a desire to organize and clean in preparation for a new baby, which is known as nesting. But this phenomenon tends to happen later in pregnancy, so Kardashian may not be nesting at all. It could be nothing more than practical changes to her home in anticipation of the coming member of her family. If so, I can't wait to see her when she's actually nesting.
Kardashian has been sharing plenty of photos of herself since announcing the pregnancy. From bump pics to workout videos, she has given fans plenty to see over social media. Her Snapchat stories have featured a number of her prenatal workouts, showing that Kardashian is dedicated to having a fit pregnancy and keeping up with her exercise routine.
Not everyone has been supportive of her continued exercising, despite the numerous known health benefits of being fit during pregnancy. When her critics claimed that she was overdoing it, she responded to their comments in an interview with Entertainment Tonight:
It's bizarre to me that people don't want me to be happy and stay healthy and fit. My doctor wants me to work out everyday if I could, so I'm doing doctor's orders and I feel good.
She went on to explain some of her reasons to continue working out:
Whatever you do before you're pregnant, you're allowed to continue, and they say it leads for a better delivery. I feel great, and I would feel horrible if I was just sitting around, overeating all day… I don't have swollen feet, I don't have a lot of these things because I'm staying so active right now. So, as long as I can, I want to keep that up.
It sounds like Kardashian is determined to do pregnancy her way — from when and how she announced her pregnancy, to the design of her nursery, to her workout routines. And for that, I commend her. Pregnancy is a very personal journey and she seems to be staying true to herself.
Check out Romper's new video series, Romper's Doula Diaries:
Watch full episodes of Romper's Doula Diaries on Facebook Watch.