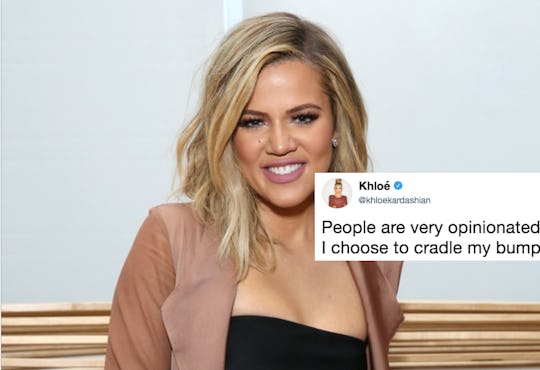 Cindy Ord/Getty Images Entertainment/Getty Images
Khloé Kardashian Shuts Down Haters Who Apparently Have A Problem With How She Holds Her Bump
After months of rumors, Khloé Kardashian finally confirmed her pregnancy in an Instagram post this past December. Ever since then, many fans of the reality star have provided her with nothing but support and good vibes. However, a few others have instead taken Kardashian's announcement as license to scrutinize pretty much everything she does during her pregnancy. People have slammed Kardashian for her pregnancy workout routine, for the size of her bump, and for flying to Japan in her third trimester — but this latest bout of criticism is one of the most puzzling. On Twitter and Instagram, Kardashian revealed that people have apparently been criticizing her for cradling — aka gently holding — her pregnancy bump. Seriously. So on Wednesday, Khloe Kardashian tweeted about her pregnancy "bump" to respond to those criticizing her for cradling her baby-to-be — and she perfectly put the haters back in their place.
"People are very opinionated about my bump. I choose to cradle my bump because it's MINE," Kardashian wrote on Twitter. "I've waited for this VERY short moment for YEARS. I have only months to enjoy this phase in my life, so I will touch my bump and love my bump as often as I choose. Mommy loves you baby! ❤️"
Many fans responded to Kardashian's tweet with supportive messages, some of which she even responded to.
Criticizing a parent or expectant mother for the way they care for their baby is never OK. And in this instance, not only is the criticism unwarranted and completely unnecessary, but it's also pretty incorrect. In fact, gently touching your bump can actually be beneficial to your baby. In a 2015 study published by PLOS ONE and reported on by TIME, researchers studied the effects of expectant mothers doing three things: stroking their abdomens, reading from a book, and laying with their arms at their sides. Rubbing their abdomens resulted in the biggest response from fetuses, who were more likely to respond by moving their arms, heads, and mouths.
Not to mention, gently massaging a pregnancy bump (whether performed by the expectant mother or someone else) during pregnancy can actually be beneficial to the expectant mother, as well. According to a blog post on Baby Centre written by Alison Bourne, a physiotherapist in women's health, there are several reasons to try abdomen massages after the first trimester. As the above study noted, fetuses are likely to respond to touch starting in the middle of the second trimester, meaning a gentle abdomen massage can help strengthen the bond between mother and child.
Additionally, a gentle massage can help an expectant mother with relaxation, aches, sleep, and circulation, anxiety, and mood swings. And lastly, Bourne noted there are several benefits to regular bump massages during the third trimester, including possibly alleviating labor pains, and lessening the chances of your baby being born prematurely or underweight.
This is not the first time Kardashian responded to those critiquing her behavior while pregnant. In December, shortly after she announced her pregnancy, hateful comments began popping up online criticizing Kardashian's exercise routine, which she often documents on social media. "For the ones who think they are physicians all of a sudden," she wrote on Twitter, adding a face palm emoji, "but MY doctor and I communicate and my workouts are cleared and highly recommended. Thanks kiddos! Don't make me stop sharing sh*t. Kardashian accompanied the tweet with a Fit Pregnancy and Baby article titled "33 Reasons To Exercise Now."
It's clear that Kardashian has no plans to listen to her haters, and that she is happily doing her pregnancy her own way. Here's hoping the trolls finally take a hint from Kardashian's latest Twitter shutdown — but if they don't, you can count on her shutting them down once again.
Check out Romper's new video series, Bearing The Motherload, where disagreeing parents from different sides of an issue sit down with a mediator and talk about how to support (and not judge) each other's parenting perspectives. New episodes air Mondays on Facebook.