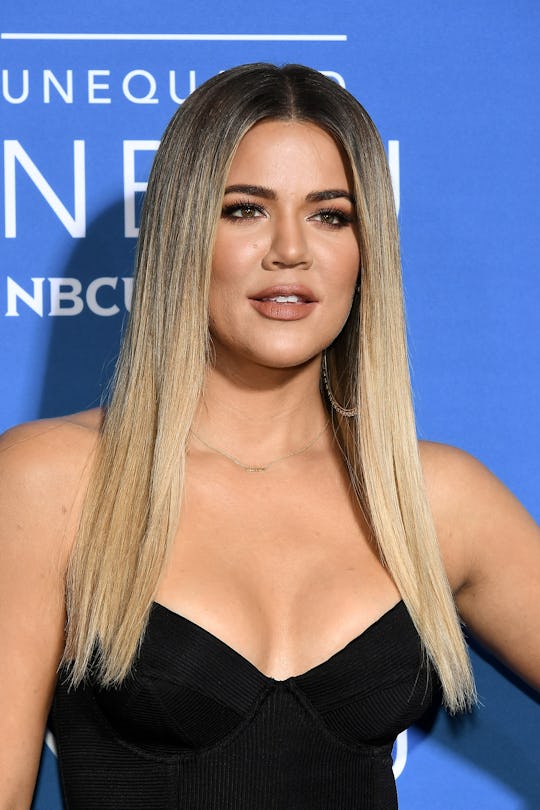 Dia Dipasupil/Getty Images Entertainment/Getty Images
Khloé Kardashian's Reported Worries About No Longer Breastfeeding Baby True Are So, So Relatable
It's a rare event for me to be in a position to feel genuine sympathy for a celebrity, but here we are and here I am. When Khloé Kardashian was tweeting about the fact that she had stopped breastfeeding over the weekend, she sort of seemed vulnerable to me. Anxious to let people know she tried as hard as she could, but it just wasn't working out. Apparently, I was right. Khloé Kardashian was reportedly worried she might be judged for not breastfeeding her daughter True, according to People, and I really hate that this is a thing people do to each other.
Khloé gave birth to her daughter True (with boyfriend Tristan Thompson) on April 12 and apparently got right down to the business of trying to breastfeed her child from the get-go, according to mom Kris Jenner. During a May interview with Ellen DeGeneres on The Ellen Show, the famous momager said that Khloé was an "amazing mom" and was trying to get a handle on breastfeeding. Kris said that her daughter was finding breastfeeding "tricky," according to People.
"She's so excited about motherhood and trying to get the nursing thing down, which is a little tricky. She's trying, she's really trying. She's figuring it out one day at a time, she's just the best mom already," Kris said on The Ellen Show.
Unfortunately, where there's a will there's not always a way. The Good American designer continued to try breastfeeding True, first when they were living in Cleveland and again when the whole family headed back to Los Angeles. But the new mom had a low milk supply and just couldn't keep up with it, according to People. This is, of course, something that happens to many moms who wanted to try breastfeeding but found their bodies wouldn't quite cooperate.
Khloé kept at it, according to a post on her website, supplementing with formula when her own milk supply wasn't enough to keep her little girl fed. As she wrote on her website in early June:
Technically, I don't need something like this because I breastfeed, but because I don't produce enough milk, I also have to give a bottle with every feeding. And, with the formula I use, I have to give True the bottle within 30 minutes of making it, so it's amazing to have this machine make it for me.
After another month of trying, however, the new mom eventually had to call it quits, according to Cosmopolitan. And as she wrote on Twitter on Friday, it was not an easy decision for her by a long shot. "I had to stop breast feeding," she wrote on Twitter. "... it was really hard for me to stop (emotionally) but it wasn't working for my body. Sadly."
A source reportedly close to Khloé told People that the new mom was nervous that people would judge her when she admitted she was no longer breastfeeding True, but she decided to share the news in an effort to be "open and honest." The source told People, "Khloé always wanted to breastfeed as long as she could. Before True was born, she was really excited about it and about having that bonding experience." The source added. "She had to supplement and was worried people would judge her but then realized she wanted to be open and honest."
Once she shared the news, most people on Twitter were hugely supportive of her honesty; especially other moms who had agonized over the same sort of decision themselves.
Not everyone wants to breastfeed their baby, but it can be incredibly frustrating when a mom actively chooses to try and finds it won't work for her — celebrity or not. Nobody needs to feel like they're going to be judged for breastfeeding, bottle-feeding, or however your baby might be fed. Because fed truly is best, at the end of the day. Without an extra side of judgment.