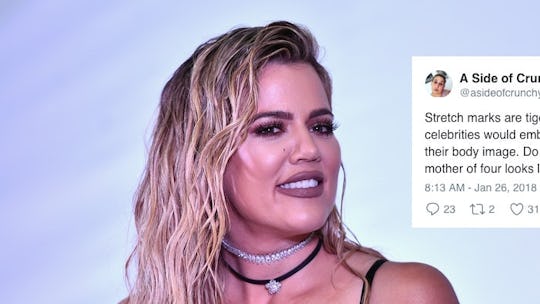 Alberto E. Rodriguez/Getty Images Entertainment/Getty Images
Khloé Kardashian Just Shut Down A Mom Who Didn't Like Her Tweet About Stretch Marks
Khloé Kardashian has long been an odds-on favorite for Kardashian fans. While everyone has their preference, of course, there's just something about Khloé that makes her immensely likable. I think it might be her whole "tell it like it is" thing. This girl is not afraid to call anyone out for poor behavior, including herself in some cases. So I wasn't especially surprised when Khloé Kardashian had the best response to a critic coming after her on Twitter recently. Because the Revenge Body star might have been fierce before... but now she's going to be a mother. So seriously everyone, tread lightly.
The 32-year-old reality star announced that she is expecting her first child with longtime boyfriend Cleveland Cavaliers player Tristan Thompson back in December after months of speculation that she might be expecting. And while Khloé managed to keep quiet about her pregnancy for months, once the news was out she seemed truly excited to share her experience with fans on social media. Anything from cravings (she's a cereal girl, which I totally get because cereal is the food that works literally any time of day or night) to her changing body. And here's where things got a little testy on Twitter. The Good American designer posted a series of tweets on Thursday, kinda-sorta lamenting the way pregnancy was changing her body.
Plenty of fans were there to support her, reminding her that this was simply part of the process of welcoming a human being into this world. And the Keeping Up With The Kardashians star was actually engaging with her followers, which I think is pretty unusual for a celebrity.
That is, until a blogger decided to get a little passive aggressive with Khloé, calling out "celebrities" in general who she contends aren't trying to "embrace" their pregnancy because they're too concerned about the way they look.
And when Khloé posted about some cellulite on her legs that she maybe wasn't loving, this blogger commented that she should "embrace it you wanted a baby!"
Khloé wisely ignored the comment about wanting a baby (because come on girl, who says things like that?) but decided to reply to the comment accusing her of not embracing her stretch marks. And it was seriously a classy, mic-drop moment.
There's this thing that sometimes happens between moms and moms-to-be on social media, and it's infuriating. I wouldn't go so far as to call it mom-shaming, which we all know exists and is the absolute worst, I would say it's more like picking sides. Like you have to either be a *natural* mom who doesn't give a hoot about her stretch marks/cellulite etc., because that's proof that you somehow appreciate your baby more. As if being bothered by your changing body takes away your love for your child or your excitement about becoming a mother.
So when Khloé clapped back at this mom of four for implying that she wasn't embracing her pregnancy simply because she might be concerned about stretch marks or whatever, it was another line drawn in the sand. A line that doesn't need to be there.
I am a mother of four. I love each of those boys with a fierce, exhausting, all-consuming love that defies description other than this; they are the loves of my life. But I really don't love the stretch marks I got from pregnancy at all. Nor the cellulite. Nor that one weird vericose vein-looking thing that seems to be crawling up my leg.
It's not an either-or situation, folks. You can love your baby and not love the changes in your body. The two feelings are mutually exclusive.
Obviously. Because anyone who follows Khloé Kardashian knows how badly she wants to be a mom. It's beyond question.
So give her a break.
Check out Romper's new video series, Romper's Doula Diaries:
Watch full episodes of Romper's Doula Diaries on Facebook Watch.