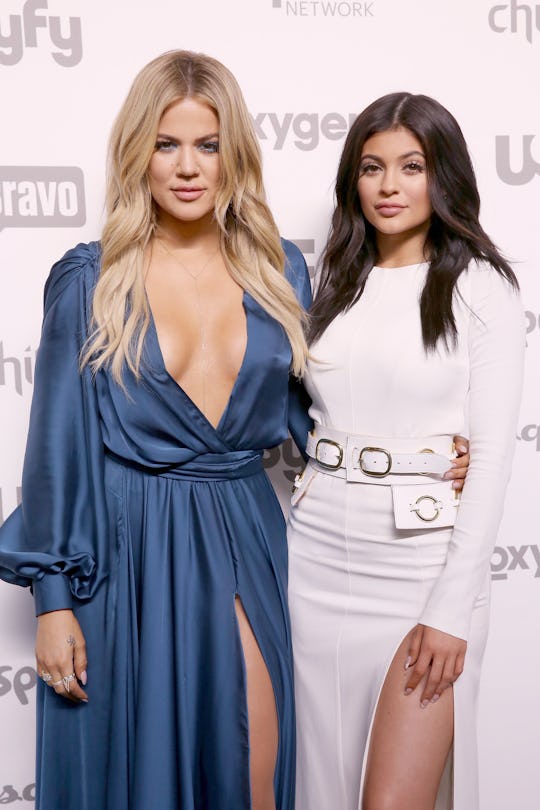 Robin Marchant/Getty Images Entertainment/Getty Images
Fans Still Don't Know Anything About The Kardashian Pregnancies Following The 'KUWTK' Finale
In September of 2017, TMZ first reported that Kylie Jenner was expecting. Expecting a baby. A few days later the outlet reported that her sister, Khloé Kardashian was also pregnant. But since then, all the Kardashians have been maddeningly vague on confirming or denying either of these rumors. Khloé and Kylie didn't reveal their pregnancies on the KUWTK finale and the world is getting incredibly frustrated. After all, at this rate there's a good chance that these children will be ruling over all of us very soon. So what's the deal Kardashian family? How many mini-Kardashians *precisely* can we expect in the near future?
After the rumors started circulating, the family refused to comment conclusively one way or another. I am pretty sure that this is because they are all media geniuses. If the rumors are true, then holding off on making an announcement is a surefire way to get people to tune into the show and hope for an announcement. If the rumors aren't true, well then it is still an aces way to get people to watch Keeping up with the Kardashians, and follow all of their social media accounts obsessively, all of which results in a larger Empire for the Kardashian family. Say what you will about them, but they have cracked the code for dominating pop culture gossip and I have to respect that.
After the Kylie news erupted, nobody said anything conclusive. Hollywood Life reported that an unnamed source (which I always take with a gigantic grain of salt) close to Caitlyn Jenner reported that Caitlyn was shocked and saddened by the news that her daughter Kylie was pregnant — saying that the young mogul was "too young" to be a mother. If true, this seems to suggest that Caitlyn found out about the pregnancy at the same time the rest of us did, which does seem a little bit odd, no? Later, during Live With Kelly and Ryan, host Ryan Seacrest read aloud a text from Kris Jenner which stated that Kylie was not confirming anything. Kim Kardashian West tweeted that it seemed like a "fake story." Make of that what you will.
As for Khloé, there were even fewer clues. She had said on the show that she wanted to get pregnant, and had even stopped taking her birth control pills. In the supertease for the KUWTK midseason finale, all signs seemed to point toward Khloé being pregnant with boyfriend Tristan Thompson. The teaser showed a giant party filled with screaming and excited Kardashians. "Did you not know?" Kim excitedly asked Kris, while a disembodied voice screamed "Oh my god!" So naturally, everybody tuned in to find out if what we all believed to be true actually was true.
Sadly, it appears friends that we have been had. Not only did Kylie not appear in the finale, but Khloé's biggest reveal was that she was proud of her own entrepreneurship beyond working with her sisters.
The show returns January 7, so there still is some chance that we'll get some answers then. But as for now, our best bet for answers lies in the Kardashian Christmas card. So turn your Twitter notifications on, because at this point, it's really all we've got.
Check out Romper's new video series, Romper's Doula Diaries:
Watch full episodes of Romper's Doula Diaries on Facebook Watch.