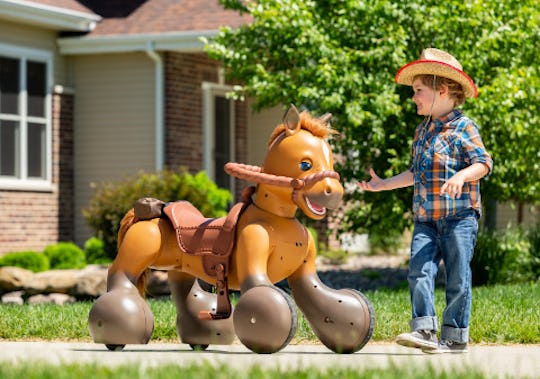 Kid Trax
Seriously, Where Was This Toy Pony You Can Actually Ride When We Were Kids? *Jealous*
Ever since kids have been begging for outrageously inappropriate and impractical pets (so, since forever), parents have found themselves uttering this phrase: "No, we're not getting a pony." (Oftentimes, this is followed by such supporting statements as "Because where would we keep him?" and "Do you have any idea how much a pony would eat every day?") Unfortunately, as fantastic an experience as your kids might expect pony ownership to be, the average family simply isn't equipped for this kind of commitment. Until now, that is: Scout, the new Kid Trax Rideamals Play & Ride Pony, gives kids the chance to see what it's really like to have their own little horse — without having to deal with such messy realities as cleaning out a stall. And yes, you can definitely expect to see Scout on your kid's holiday list this year.
Available exclusively at Walmart and on Walmart.com, the interactive ride-on pony is designed for ages 3 to 7 years (i.e., exactly the ages when your kids will think they want a pony the most). This thing is a far cry from those head-on-a-stick hobby horses we had to make due with back in the days when low-tech playthings like jump ropes reigned supreme: Scout is capable of making over 100 sounds and movements, including a "special pony dance," and his eyes, ears, head and wheels are fully motorized. It's also super cute:
See, you can literally ride Scout! (Well, not you. Pretty sure anybody over the age of 7 who tries to ride it will run into some serious problems.) But little dogies can actually git along on this guy at speeds up to four miles an hour thanks to two forward speed settings and one reverse speed. (Whoa, boy!) All the while, songs and "pony sounds" will play in the background.
Considering that kids have been zipping along in mini motorized cars for quite some time now, a motorized ride-on pony like Scout seems almost overdue. (In case you didn't know, Kid Trax also sells a wide variety of kid-sized vehicles such as Disney and superhero-themed quads, fire trucks, motorcycles... even ATV and bulldozer replicas.) But as much of a blast as it might be to go tooling around in a battery-powered Lightning McQueen that's just your size, you can do even more with Scout than you could with a car or truck. Use the included accessories to feed and care for Scout, who's programmed to respond accordingly: Feed him a snack and he'll make "munching" noises; brush his mane and his ears will twitch with satisfaction. Would a tot-sized sports car show the same level of appreciation? I think not.
Scout comes with a grooming brush, carrot, apple, and saddlebag, as well as a rechargeable 12-volt battery. Full disclosure: At an approximate retail price of $399, Scout isn't exactly cheap. Is it worth it to spend so much on one item, when your kid probably has way more toys than she needs as it is? Does she really need an interactive pony?
Well, nobody really needs an interactive pony. But honestly, one of the joys of the parenting experience is getting to occasionally surprise your kid with a big-ticket item like Scout. Sure, the novelty will eventually wear off, as it does with every other toy, but no kid will ever forget what it was like the day he got Scout as a gift. And just wait until this horse officially hits the shelves on July 15 and your aspiring farmer/jockey/cowperson finds out that it exists!
So yes, this is technically a frivolous purchase. But will you ever regret it, the way you might regret another type of frivolous purchase? Not when you look back at the pics of your kid taking his first ride.