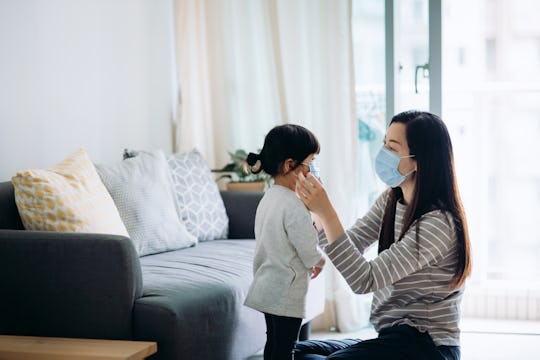 d3sign/Moment/Getty Images
For Kids Who Are A Little Freaked Out By Face Masks, These 12 Tips Can Help
Getting your child to do something that they don't want to do can be quite challenging, and this is especially true when they're scared. But what if what they're frightened of is necessary to keep them safe? These tips for when your kid is afraid of face masks can help reassure them that even though a mask might look scary, wearing one helps to keep everyone healthy.
In many places around the world, masks are now required attire when in public to help prevent the spread of the novel coronavirus. Dr. Lindsay Clukies, a Washington University emergency room physician at St. Louis Children's Hospital, tells Romper that although the Centers for Disease Control and Prevention (CDC) now recommends cloth face covers in public, there is one caveat for children under age 2.
"It is important to note that masks of any kind should not be used on children less than 2 years of age, due to the risk of possible suffocation," Clukies says. "For children above age 2, the mask should cover the mouth and nose and shouldn't be touched when worn. Make sure the mask fits snug on your child's face, but not tight enough to restrict breathing."
Once you make sure your appropriately-aged child is equipped with a properly-fitted mask, the battle may become convincing them to wear it or even brave outings when they're scared of others wearing masks. Read on for tips to help you child feel more comfortable with face coverings.