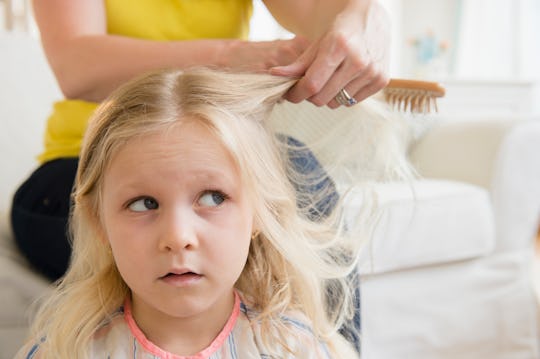 Jamie Grill/The Image Bank/Getty Images
How To Convince Your Child That Brushing Their Hair Isn't Murder
Does your precious darling turn into a mighty monster at the first sign of any hair care tools? Plenty of kids take issue with the concept of tangle-removal, but there are several tried-and-true ways to convince your child that brushing their hair isn't murder.
I'll be the first to admit that when your hair is basically a rat's nest piled on top of your head, brushing through it is not the most pleasant feeling in the world. Sure, it can feel uncomfortable. Fine. But, it's necessary to help your kids look like functional human beings from time to time.
When my stepdaughter was about 7 years old, she went through a phase where she consistently wanted to wear her hair in french braids on either side of her head. She always wanted me to braid her hair, but never liked me brushing it out beforehand. She would fidget and squirm and nearly break out into tears before I even got to the braiding. It took us many, many sessions of screeching our way through the brushing part of this whole ordeal before I finally finagled a few tricks to keep her from freaking out whenever I broke out the brush.
Many of the tips below come straight from real moms who have been through their own brush battles with littles. It may take a bit of trial and error to find what works for you, but it is totally possible to convince your child that you don't truly wish to make them miserable by brushing their hair.