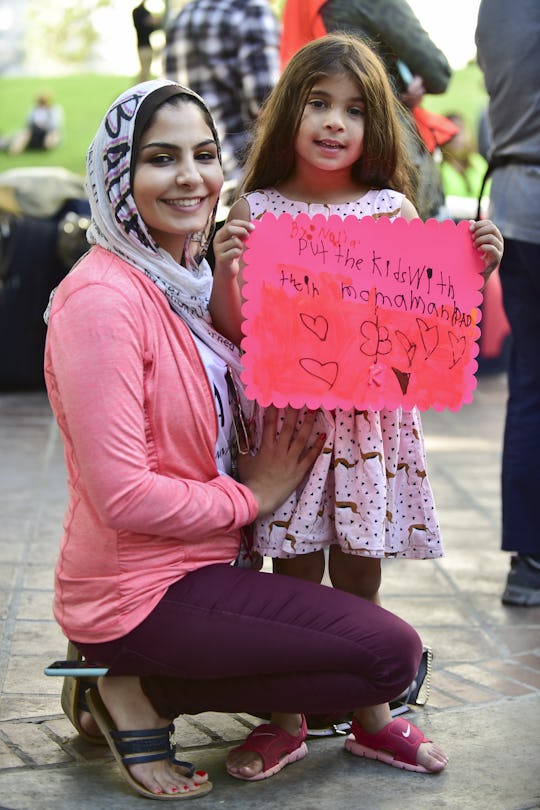 Rodin Eckenroth/Getty Images Entertainment/Getty Images
Badass Kids' Signs From "Families Belong Together" Protests
On Saturday, President Trump's "zero-tolerance" policy regarding immigration at the US-Mexico border inspired protests around the country and the world. It's actually incredible to think of how many protests Trump's presidency has inspired, beginning with the Women's March last January, but this recent rally has a special significance. Because it's a rally for people who need protection. Who need to be heard. It's a rally for families, and what better way to acknowledge the need for families to stay together than kids' signs from the Families Belong Together protests. Signs made by children and carried by children to support children they have never met. Because apparently, we've come to a place where adults need children to teach them how to be a grown-up.
Thousands of people gathered across from the White House in LaFayette Square on Saturday morning at 11 am (and in more than 700 cities and towns across the country) for Families Belong Together rallies. As Jess Morales Rocketto, one of the organizers of the rally, told Vox; "The 'zero tolerance' policy is Trump's zero-tolerance policy, and he has the ability to get rid of that policy at any time. So we're not going to stop organizing until the end of zero-tolerance policy. That's ultimately what created this crisis, and our demand has been so clear from the very beginning that that's what needs to happen." What are the protesters hoping to get out of this rally? They want to "reunite families and end family separation and detention."
And so, they march. With their children in tow, as a reminder that families do, indeed, belong together.
Romper has reached out to the White House for comment but did not immediately hear back.
The public outcry came initially from news that President Trump's "zero-tolerance" immigration policy was separating families who were detained at the border, tearing thousands of confused and frightened children away from their parents in a foreign country. President Trump did finally buckle under massive pressure, from Americans and countries around the world, signing an executive order on June 20 that would ostensibly bring families being detained back together. Unfortunately, this executive order has yet to help the 2,000 children who were already taken from their parents; as of June 26, they were still being detained separately, according to CNN.
Thousands gathered at protests across the country, including children who carried signs alongside their parents.
Some kids might not have made their own signs, but they did something even more important; they showed up to make sure their voices were heard. They were there to support the children being detained at the border, those little ones without voices.
And that's pretty damn incredible.
It's rather a depressing reality, thinking that children are making signs and marching in an effort to try to protect detained children from further persecution.
But then again, it's perhaps a mark of the way so many parents are trying to raise their kids in the 21st century, and perhaps especially in a world where President Trump exists. With empathy, with understanding. With a sense of purpose.
Not to mention a sense of history, because the more kids know about where the world has been when people did turn a blind eye, the better. Because it can never happen again.
As parents, we're supposed to teach our kids to give a s**t. We're supposed to instill in them a sense of righteous indignation, a deep need to make a difference, a willingness to stand up in the face of injustice.
And it looks like we might be nailing it.
Keep fighting the good fight, folks. Because there are little people all around who are paying attention. And we want to set a good example.