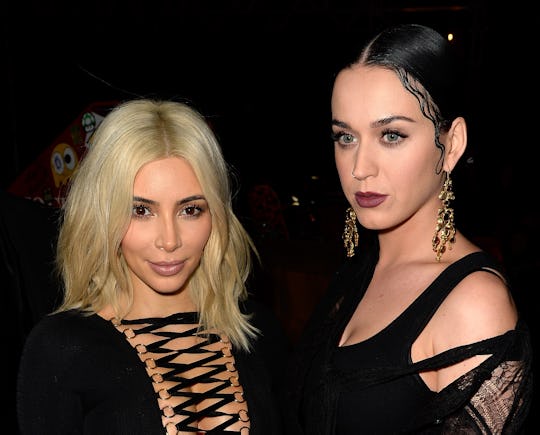 Pascal Le Segretain/Getty Images Entertainment/Getty Images
Kim K. & Katy Perry Spent 'Reputation' Friday Hanging Out
On Friday, Taylor Swift dropped her first studio album in three years, Reputation. As ever with Ms. Swift, the album was rife with potential references to her love life, as well as several ongoing feuds. One of those feuds (which is apparently still raging on) was with Kim Kardashian and her husband, rapper Kanye West. Another was with former friend Katy Perry. As Reputation was taking over social media, Kardashian and Perry hung out together and were all like, what album? And Twitter was totally here for it.
Swift's new album, her sixth studio album and first since 1989, appears to be telling two stories. A love story, and a tale of sweet, sweet revenge. In the year since Swift has been off the radar, following a major falling out with West and Kardashian, the "Bad Blood" singer seems to have been plotting her revenge against those who she felt had done her wrong. Unfortunately (or maybe fortunately) for Swift, the list appears to be a mile long. Kardashian and West seem to be at the top of the list, while the media in general, any man she has dated in the past, Perry, and probably even someone who cut in front of her in line at Target make the list. I made that last one up, but it could have happened. If you happen to be one of the people who crossed Swift and had a song written about you, what do you do when the album drops?
Live your best life with your daughter at a Katy Perry concert and then post it on Snapchat. Obviously.
Kardashian posted snaps of herself singing along to the song "E.T." during Perry's Friday night Witness concert in Los Angeles, which was a collaboration between West and Perry. Then she and daughter North West went backstage to hang out with the "Swish, Swish" singer. Clearly having the best time ever.
So here's a quick rundown of the former feuds, just in case you've forgotten. After initially causing drama during the 2009 VMAs by interrupting Swift ("Imma let you finish," who doesn't remember that?), West apologized and made up with Swift. The two were friendly for a few years, until West put out the song "Famous" from his 2016 Life Of Pablo album, where he shared some questionable lyrics about Swift. She acted all offended, as though she didn't know, until Kardashian released a secret video recording of the phone call between West and Swift, where she clearly gave her blessing. Swift's reputation took a serious hit, so she took off for a year, fell in love, and laid down tracks for Reputation, the ultimate revenge album.
Not that Kardashian seems all that concerned, as noted by giddy tweeters.
As for Perry; rumors abound that she already had to suffer through her own diss track, since "Bad Blood" was reportedly written about her. The story goes that she and Swift were friendly, but had a falling out over some back-up dancers.
Again, she didn't seem overly concerned about the new album and the potential for a new revenge song. She has yet to publicly mention it, nor have West or Kardashian.
Perry might not have been dissed on Reputation (although it's still early days, and Swift hasn't said much of anything yet), but one song in particular appears to be aimed directly at West and Kardashian, "This Is Why We Can't Have Nice Things." Especially the second verse which clearly references the infamous phone call:
It was so nice being friends again
There I was, giving you a second chance
But you stabbed me in the back while shaking my hand
And therein lies the issue
Friends don't try and trick you
Get you on the phone and mind-twist you
And so I took an axe to a mended fence.
Swift seems to still be harboring some pretty intense feelings about the feud, but Kardashian?
It looks as though she's moved on with her life, unconcerned.
Check out Romper's new video series, Romper's Doula Diaries:
Watch full episodes of Romper's Doula Diaries on Facebook Watch.