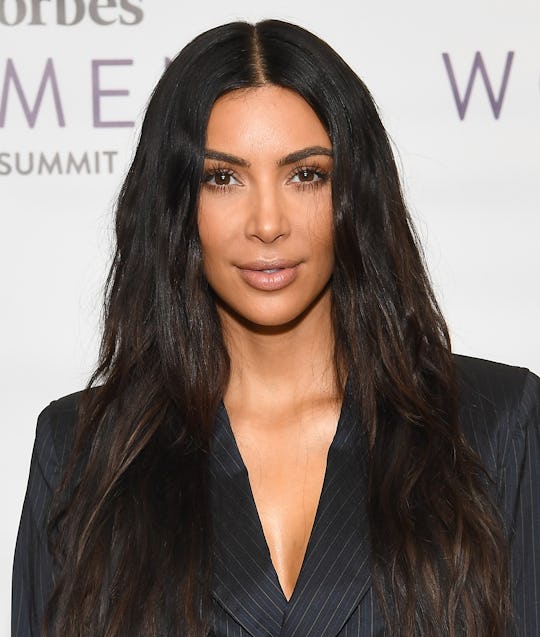 ANGELA WEISS/AFP/Getty Images
Kim K Says She Actually Is A Feminist "In My Soul"
There was a time in the not-too distant past when Kim Kardashian West insisted that she simply was not a feminist. I mean, really insisted. She wrote an entire essay about how much she was just not a feminist. It was a curious position for a woman to take, this vehement distancing of oneself from an ideology based on supporting women's rights. A cause most women could probably get behind, on account of we are women. Not Kardashian... at least, not until now. These days, Kardashian admits that she is a feminist "in her soul," and we feminists are here to say; Oh fabulous. We've been waiting for you.
About a year ago, the Keeping Up With The Kardashians star wrote an essay about her refusal to be labeled in any form; even as a feminist. The clothing designer and mother of two (daughter North is four while son Saint is two) wrote, according to Marie Claire, that it wasn't really feminism that was the problem, just the concept of labels in general.
You're Republican, you're Democrat, you're bisexual, you're plus-size, you're poor, you're a criminal, you're a mother, you're a feminist. I'm a human being, and I have thoughts, feelings and opinions about a lot of different things. I don't need to be defined by those beliefs, just as much as I don't want to be set apart from — or viewed as being against — those who DO define themselves by those beliefs. I feel that being grouped or labeled can create separation between people who do (or don't) fall into certain categories, when they may actually share many of the same beliefs and goals.
Naturally, the reaction to Kardashian's essay was as explosive as you might expect. Sure, she focused primarily on not wanting to be labeled, but she was eviscerated for essentially writing a feminist essay about not wanting to be called a feminist. Articles were penned, labeling her an anti-feminist, and we won't even go down the social media road because... well, you know.
Now the tides have turned. She might not want the labels, but she's ready to embrace feminism somewhere deep and spiritual. During an interview with Harper's Bazaar Arabia, Kardashian addressed her previous stance on feminism. She noted:
I said once before that I'm not really a feminist, but I feel I do a lot more than people that claim that they're feminist. To clarify what I said before: I feel in my soul I'm a feminist. I just don't need labels to make me feel or know what I am inside.
She went on to credit all women who take to social media to defend and empower each other, according to Cosmopolitan:
Modern feminists are all the girls around us today. Every time you look on social media and there's someone standing up for themselves, to me that's a modern feminist. There's such an amazing group of girls that empower each other.
Kardashian has been slammed on a daily basis for showing off her body, with celebrities like Bette Midler and Chloe Grace Moretz attacking her in the past for taking a nude selfie. And, as a newly-minted feminist, Kardashian is simply going to rise above it, as she said in her Harper's Bazaar Arabia interview:
More power to the moms that look really good, work really hard, do what they can so that they still feel sexy, still feel good about themselves. I don't think for a second that because you become a mom you can't be sexy any more.
While some might criticize Kardashian, mostly because it appears to have become a national pastime, it's important to remember that feminism isn't one of those things we women have to apply for. We get to call ourselves feminists without qualification, without explanation, and without a resume. Even if you don't like her, you don't really get to tell her she can't be a feminist.
Instead, let's just say; Welcome, friend. Jump on in, the water is warm.