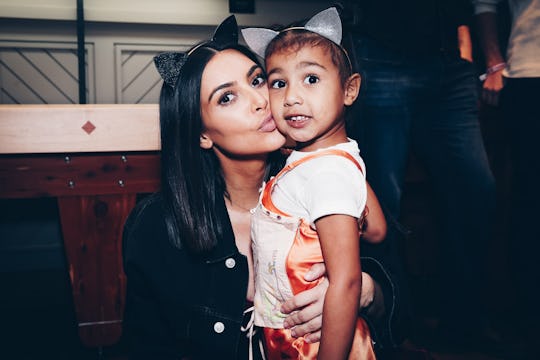 Handout/Getty Images Entertainment/Getty Images
Kim Kardashian Finally Addresses Surrogacy Rumors
It seems reality star and fashion designer Kim Kardashian has decided to address the surrogacy rumors that have been swirling around for weeks. After she struggled with health issues throughout her first two pregnancies with husband, rapper Kanye West, Kardashian was believed to be seeking out a surrogate to carry the couple's third child. The usually forthcoming star of Keeping Up With The Kardashians (which is celebrating its 10th year on the E! Network if you can believe it), was happy to talk about her wish for a third child, but not quite ready to open up about specifics. According to an interview with The Hollywood Reporter, Kardashian said:
[On the possibility of a third child with Kanye, reportedly via surrogate] I hope so. There have been a lot of things said and Kanye and I have not confirmed anything. We're definitely trying. We are hoping so.
Multiple news outlets have reported that Kardashian and West were planning on adding to their family via surrogate. Last month, Us Weekly shared the news that Kardashian's surrogate, a mom from San Diego who is reportedly in her late 20s, was already three months pregnant. While the couple, who are already parents to four-year-old daughter North and one-year-old son Saint, have never denied the rumor... they've never actually confirmed it either.
Kardashian struggled with placenta accreta, a potentially life-threatening condition that keeps the placenta from leaving the body, throughout both of her pregnancies. She opened up about her struggles with pregnancy and giving birth on her website after North was born in 2013, writing:
My doctor had to stick his entire arm in me and detach the placenta with his hand, scraping it away from my uterus with his fingernails. My mom was crying; she had never seen anything like this before. My delivery was fairly easy, but then going through that — it was the most painful experience of my life!
After two frightening pregnancies, it would certainly make sense for Kardashian to seek out a surrogate. And she has openly discussed the possibility of surrogacy several times on KUWTK, even entertaining the possibility that her 61-year-old mother Kris Jenner could potentially carry a baby for her. Even older sister Kourtney, mother of three herself, offered her services, saying:
I already offered myself so don't act like you're the only Mother Theresa in here.
Not to be outdone, sister Khloe Kardashian went to get tested to see if she was a viable candidate to carry a baby for her sister and West on an episode of KUWTK.
While the surrogacy discussion has clearly been pretty open, that doesn't mean Kim Kardashian has to confirm or deny anything before she's good and ready. And who could blame her? Having lived most of her life under intense media scrutiny, if she has actually chosen a surrogate to carry her third child she probably wouldn't want to expose such a vulnerable person to the spotlight. And with good reason.
When Sarah Jessica Parker and Matthew Broderick chose to hire a surrogate to carry twins Marion and Tabitha for them in 2009, the women was identified in the press. As SJP told Access Hollywood at the time:
I am incredibly outraged by the sort of extraordinary and unprecedented invasion of her privacy. The most unsavory things have been done. She's had her phone hacked, her personal computer information hacked, she's had threats against her and true harassment… She's had friends threatened and family threatened and she's had family of friends threatened.
If Kardashian and West have indeed hired a surrogate, can you blame them for wanting to protect her and their potential child during this delicate time?