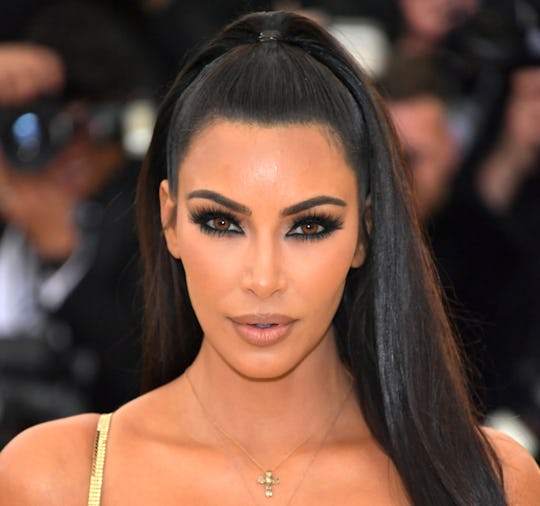 Neilson Barnard/Getty Images Entertainment/Getty Images
Kim Kardashian Celebrates The "Good Life" In Pic With Her 3 Kids
Trying to perfect family pictures is nothing short of hell on earth, even if you're a person who is famous for their ability to take amazing selfies. Why? Because there are these little people who need to be in the picture who frequently just don't give a rat's ass if it tuns out or not. And if you're the mother of multiple children it is significantly worse. How does a mom who wants to document her kids' lives figure it out? Make it all about being candid. Kim Kardashian West celebrated the "good life" in a picture with her three kids, and it's possibly her cutest yet. Why? They're all cuddled up in bed in their pajamas.
The KKW beauty mogul is the mother of three utterly delicious little children with husband Kanye West; 5-year-old daughter North, 2-year-old son Saint, and 4-month-old daughter Chicago (who they call "Chi" pronounced "Shy" for short). Ever since the couple welcomed their third baby via surrogate on Jan. 15 it seems like Kim K. has been trying to pull together a good family photo. And considering she might have actually invented the selfie along with her sisters, one would think it would be easy.
One would be terribly mistaken.
She shared this slightly awkward looking photo, the first of all five members of her family, on Instagram on Easter weekend.
It's cute and all, but apparently not exactly what Kim wanted, as she explained in the caption:
I don't think you really understand how hard it is to take a good family pic. This was all we got before all three kids started crying. I think I cried too
The reality star also noted that she was trying to keep her son Saint from taking off on her, according to E! News:
One hand holding the baby and the other hand grabbing the back of Saints shirt because he kept running away lol.
The mom-of-three took a different tack with the family picture she posted on Saturday. Catch the kids when they're happiest. Curled up with their mom in what is presumably her extra comfy bed, still in jammies and having a blast.
Kim captioned this photo, "Welcome to the good life."
Fans couldn't help noticing one particularly adorable aspect of this photo; the way Saint is looking at his mom. His eyes filled with just buckets and buckets of love.
Kim told Ellen DeGeneres on her talk show that her son Saint tends to be a real sweetheart in general, according to People, especially with his baby sister (although it can sometimes get a little out of control, apparently):
He loves his little sister, he's so sweet with her. [But] I always have to watch out for him — he smothers her, and he has this really big hair so he just jumps in her crib.
Other fans noted that Kim's caption might be referencing a song by husband Kanye, who wasn't in the group photo.
Don't worry though; the super proud dad made it into this photo taken on a plane:
Now this isn't the first time Kim has let the kids pose for pictures in their pajamas. On Mother's Day the family posed for another photo, and this one wasn't terribly easy to choreograph either, as Kim noted on Instagram:
You don't even understand how many lollipop bribes this pic cost me...but it was so worth. Happy Mother's Day to all the moms out there. I'm the luckiest mom in the world to have these three babies in my life!
Serious props to Kim Kardashian for just going with the flow and letting her kids pose for candid pictures in their pajamas if that's what makes them comfortable. I know her family lives in a world of high glamour, but she's clearly not putting that pressure on her kids. Which is so great to see.