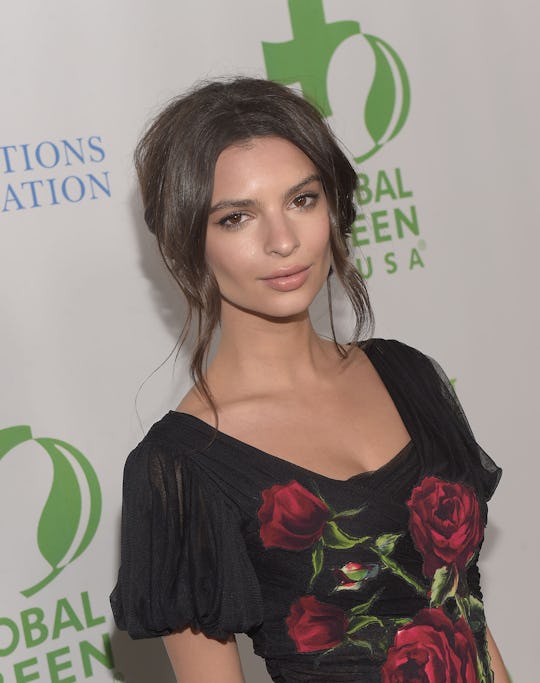 Jason Kempin/Getty Images Entertainment/Getty Images
Kim Kardashian & Emily Ratajkowski's Nude Selfie Sends A Strong Message To The World
Remember when Kim Kardashian had nothing to wear? I'm sure you do, the Internet was rampant with comments of negative criticism and posts of empowering praise from celebs like Demi Lovato and Miley Cyrus. On Wednesday, Kardashian and Gone Girl actress Emily Ratajkowski, stripped down to take a nude Instagram selfie together, pairing the image with a message that's so much more than just two topless beauties in a bathroom.
Standing side by side in what seems to be a public bathroom (which is another discussion for another day), Kardashian and Ratajkowski delivered a pretty obvious message, urging women to support other women in however they chose to express themselves, and reassuring them that it was completely OK to be a sexual creature. The duo flipping off the camera definitely helped portray the message that they, and others, couldn't care less what the world — and more importantly, their critics — thought of them.
Ratajkowski was one of Kardashian's biggest supporters following the reality star's first post-pregnancy nude selfie, taking to Twitter to celebrate the image. While Kardashian was on the receiving end of a lot of negativity for her post, Ratajkowski instead praised her with admiration. And she definitely hasn't faltered on that position: On Wednesday, Ratajkowski tweeted the empowering photo with the following caption: "However sexual our bodies may be, we need to (have) the freedom as women to choose (when) & how we express our sexuality."
She continued her message with a series of tweets about how women should not be ashamed of their sexuality, but that they should instead be proud and confident in a society that so widely demeans and objectifies women's bodies.
While the "Blurred Lines" starlett's message was clear, Kardashian playfully captioned the photo "When we're like… we both have nothing to wear." Even though her words were less in your face about sexuality and body image, it's still pretty clear she doesn't care what critics have said about her in the past and will undoubtedly say after this week.
Of course, on social media, there's already been plenty of backlash criticizing the ladies' lack of class and feminism. TV host Piers Morgan has already taken a jab at women, tweeting a picture of suffragette Emmeline Pankhurst alongside the censored topless selfie, along with the caption, "RIP Feminism."
Kardashian is known for openly celebrating herself with revealing photos that completely shock the Internet and it seems that Ratajkowski is following suit, teaming up to push the message that women should completely own their sexuality however they want.
A nude Kardashian has broken the internet more than once, sparking conversations on what's right and wrong for a mother to do with her body. It'll be no surprise when this one inevitably starts a debate. And based on both Kardashian and Ratajkowski's public comments and posts on the matter, it's very clear they won't be backing down and will continue to push women to feel empowered and confident with their sexuality.