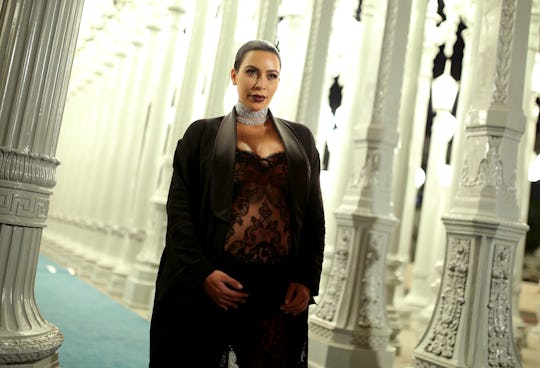 Kim Kardashian Gives Birth To Her Second Child, & Here's Everything We Know So Far
The expansive royal family of Calabasas has grown even bigger! Kim Kardashian gave birth to her second child with husband Kanye West on Saturday, Dec. 5. Kardashian shared the news on her website, noting that both mother and baby are doing great.
Speculation surrounding the exact timing of Kim's delivery has been non-stop and ever-changing. The first widespread rumor was that Kim was aiming to give birth on Christmas, but as that days ticked by, word that Kim's high-risk pregnancy was leading her doctors to advise the reality star to deliver as early as Thanksgiving. (Side note: If this means that this squishy new friend gets to be in the 2015 Kardashian/Jenner holiday card, there's even more reason to be incredibly excited about this little dude's early arrival. Yes, I know they didn't do one last year. Yes, I'm still hoping they bring that hot mess back at some point. Yes, I think they need to all go back to wearing matching biker jackets when they do. Yes, I'm aware that we're wildly off topic right now.)
The point is, Kim is finally not pregnant anymore! We might not know much about this baby right now, but we do know that Kim hates being pregnant, so if nothing else, let us all toast to her completion of this tremendously taxing project.
Kim has been very open about discussing the health concerns that have affected her throughout not only this pregnancy, but also her first. While pregnant with North in 2013, preeclampsia — a common but decidedly challenging condition that can develop during pregnancy — forced her to deliver 6 weeks before her estimated due date. During her first delivery, Kim also developed a serious condition called placenta accreta, where part of the placenta adheres to the uterine wall (as opposed to coming out right after the baby, preferably in one solid piece), creating a number of potentially very dangerous risks.
Kim went into her second pregnancy (which she worked long and hard to conceive) knowing that her history of both preeclampsia and placenta accreta meant that she might not be looking at a textbook pregnancy or birth. Luckily, we're talking about Kim Kardashian, aka, a certified badass who isn't interested in doing anything by anyone's book other than her own. As such, Kim has worn her high-risk pregnancy status like a badge of empowerment, leveraging her sizable (OK, unprecedentedly massive) media platforms as tools by which to educate and inform her followers about the reality of her pregnancy and the unique hurdles she's had to overcome.
It's always a bit thrilling when a celebrity drops a new baby-friend, but in Kim's case — considering her not-insignificant fertility and maternal health obstacles, and the fact that she (awesomely) doesn't hide how much she dislikes being pregnant — the birth of this little boy seems particularly worth celebrating.
Images: Mike Windle/Getty Images