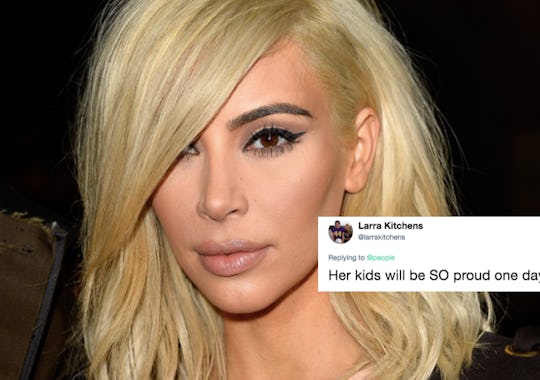 Pascal Le Segretain/Getty Images Entertainment/Getty Images
Kim K Is Getting Mom-Shamed Yet Again For A Sexy Snapchat & It's Really Getting Old
For whatever reason, modern society has a lingering and antiquated belief that women can't be both mothers and sexy. No one knows this better than Kim Kardashian. The mother of three has been on the receiving end of more sexual scrutiny than most moms. Most recently, Kardashian is getting mom-shamed yet again for a sexy Snapchat that she posted on Friday and her critics aren't holding back. And honestly, it's getting really old, really fast.
The video, which was posted to both her Snapchat and Instagram stories on Friday, shows the Keeping Up With the Kardashians star with beaded, braided hair; white, lacy panties; and wearing a long-sleeve V-neck top. She's holding a corded phone and looking into a mirror as French Montana's hit song, "Pop That" plays in the background.
The popular Instagram fan page "KimKSnapchats" later picked up the video and shared it once again. Commenters on the post were less than kind in their criticisms; many comments centered around the fact that Kardashian is a mother.
One user wrote, "You have so much more to offer why are you always posting stuff like this... come on you have kids that one day you have to explain this to.." Another said, "God get over yourself your [sic] not that important you have a new baby." A particularly sarcastic commenter wrote, "Her kids would be so proud of momma."
Can you see my eyes rolling through your screen?
Unfortunately, those on Twitter weren't any nicer.
Some Questioned Where Her Priorities Are
Others Were Just Harsh
Just the day before, Kardashian posted one of her signature sexy mirror selfies to Instagram and Twitter. The photo showed her posing topless, wearing a pair of sparkly rhinestone undies (but, considering who's wearing them, they could be real diamonds). This Instagram post received some harsh comments, too, and once again they went after her for being a mother and embracing her sexuality. One person suggested that her body was only for her husband, Kanye West, saying, "Remember you are a mommy now.....and some photos are for the eyes of your husband.....peace and love my sister."
The Mom-Shaming Did Not Take A Break
Fortunately, Some Fans Were Quick To Shut Down Criticism
The fact that it is 2018 and so many people still have an issue with a complete stranger enjoying her body while also fulfilled by her duties as a wife and mother is enough to make my head spin. Motherhood and marriage do not magically strip a woman of her sex appeal, despite of what Kardashian's judgmental followers would have you believe. As long as she is comfortable sharing what she does, nothing else matters. Society celebrates dads showing off their abs and ripped bods, and no one comes screaming at them to cover up because they're a father. The commentary that a woman needs to be more modest because "she's a mom" needs to be dropped here and now — it's archaic and sexist.
Kim K has been shamed time and time again for her choice of photos to share on social media and, honestly, enough is enough. While nude photos may not be for everyone, they are a huge part of Kardashian's brand and not at all out of character for her. Regardless of whether they make some of her followers uncomfortable, or make you question her abilities as a mother, what she does with her body is no one's business but her own. Besides, you can always unfollow her. So, get over it.
Check out Romper's new video series, Romper's Doula Diaries:
Watch full episodes of Romper's Doula Diaries on Facebook Watch.