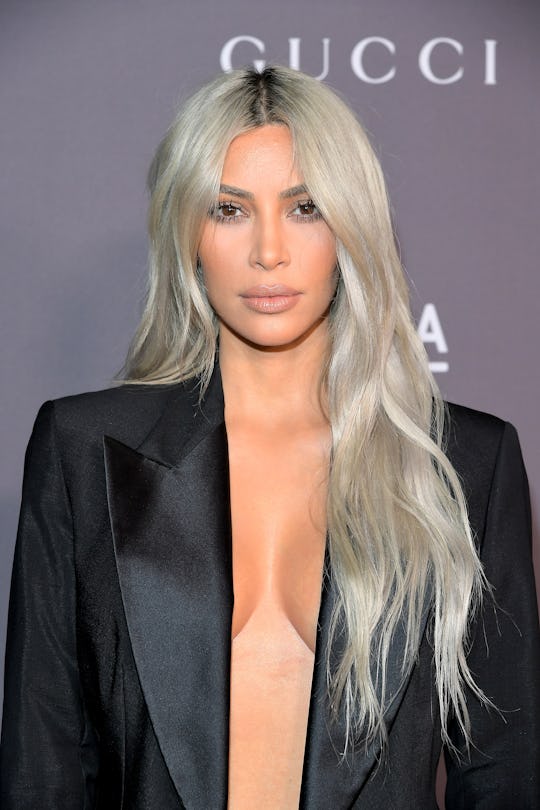 Charley Gallay/Getty Images Entertainment/Getty Images
People Are Mom-Shaming Kim Kardashian For A Nude Photo, & It Needs To Stop
Unless you've been living under a wi-fi-less rock this week, you probably already know that Kim Kardashian and Kanye West welcomed their third child together Monday via surrogate — the first arrival of the rumored Kardashian-Jenner baby trifecta. Fans are still eagerly awaiting further details about the newest Kardashian-West (her name, in particular!), but the lack of info definitely doesn't mean that the new mom-of-three has been absent from social media: people are mom-shaming Kim Kardashian for a nude photo she posted on Instagram Thursday night, and honestly, it's completely ridiculous.
Kardashian confirmed the news of her daughter's birth in a post on her official website Monday, and shared that her "healthy, beautiful baby girl" weighed 7 pounds, 6 ounces at birth. But because Kardashian is both a proud mom and a woman with a multifaceted identity who also happens to owe the bulk of her fame and fortune to her success on social media, her recent uploads haven't all been baby-related. In addition to sharing an adorable snap of daughter North West and niece Penelope Disick dressed in matching outfits, Kardashian posted a photo of herself on Instagram announcing her app's "whole new look," as well as a sexy photo of herself perched on top of a Rolls-Royce wearing a white bra and panties, according to Entertainment Tonight. In her latest post, however, Kardashian upped the ante, sharing a photo of herself posing naked in bed and partially covered by a sheet, along with the caption, "Night Cap."
It's certainly not the first time Kardashian has shared nude photos on social media — and in fact, the move is pretty on-brand for the reality star and beauty mogul (remember when she "broke the internet" with her Paper magazine cover?). But a quick scroll through the comments shows that it wasn't exactly a move her followers were unanimously in favor of. Even though the photo was an obvious throw-back (the currently-blond star has dark hair in the photo, and it also appears to be one of a previously-shared set of pics of Kardashian naked in bed), the fact that she just became a mother for the third time led to a number of disparaging comments about the photo being "disgusting for a mom," and apparent proof that she was "not a good role model" for her kids.
Unfortunately, it's not an uncommon criticism for the star, who is often judged for continuing to own her sexuality while simultaneously being a mother. In fact, it's not even the first time she was grilled for sharing a nude pic not long after welcoming a child: a few months after giving birth to her son, Saint, in December 2015, Kardashian posted a nude bathroom selfie to Instagram, much to many of her followers' chagrin. But the continued outrage is an obvious reflection that, when women become mothers, they're largely expected to put their sexuality on a shelf — and preferably to leave it there for good.
In addition to taking aim at Kardashian for supposedly being a bad mother (because obviously women can't take care of their babies and also want to feel attractive and desirable), some commenters viewed the pic as also being disrespectful to her marriage ("What kind of husband do you have [who] says nothing?"), while others even used it as an opportunity to take a shot at her for using a surrogate ("When you're so rich someone has your baby for you"). And then, of course, there was the same question that always seems to be posed to any mother who dares to pose anything remotely immodest online: "Do you ever worry about what might pop up when your children get old enough to google you?"
Of course, nude photos on Instagram are far from being the only reason women are mom-shamed. Celebrities in particular are constantly criticized for things like pregnancy weight gain (Kardashian often made headlines for apparently gaining "too much" while pregnant, as did singer Jessica Simpson, while the Duchess of Cambridge is one who often gets flack for not gaining enough, according to Us Weekly). Soon-to-be mom of two Chrissy Teigen made headlines for daring to go out to dinner after her first child was born (the horror!), while Love & Hip Hop: Hollywood star Alexis Skyy was recently slammed by online commenters for giving birth to her first child three months premature, something some suggested was her own fault because she dared to post pics of herself on Instagram instead of lying in bed all day knitting baby booties ahead of her child's arrival. ("You should've been sitting down I saw instead of bouncing around for the gram," wrote one commenter, while another said, "Told yo azz stay out that club and stop working out there is no way you should have had that baby prematurely.")
It's no secret that Kim Kardashian is the kind of celebrity that plenty of people seem to love to hate — she rose to public prominence because of a leaked sex tape, has made a literal fortune from having her day-to-day life filmed for television cameras, and is the unapologetic queen of selfies. But you don't have to be a fan to recognize that she doesn't deserve to be vilified for maintaining an identity outside motherhood. Even if that identity involves posing nude on the internet.
Of course, Kardashian might not be intending to make a statement by posting these photos. But it's also worth noting that, when she decided to post a photo in honor of her daughter's birth, she didn't actually share a shot that had anything to do with her baby. Instead, she shared a solo photo of herself looking confidently glam, along with the caption, "#momofthree." And while she may have just not been ready to share a photo of her daughter with the world, to moms like me, the pic was also an important reminder that being a mother doesn't keep you from also being a person. And that's something we all need to hear a little more often.
Check out Romper's new video series, Romper's Doula Diaries:
Watch full episodes of Romper's Doula Diaries on Facebook Watch.