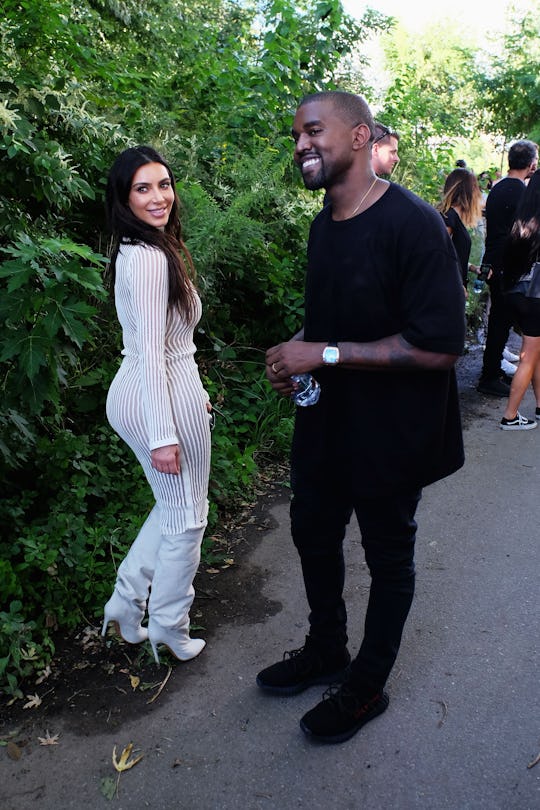 Jamie McCarthy/Getty Images Entertainment/Getty Images
Here's Why Kim & Kanye Reportedly Haven't Named Their New Baby Girl Yet
All that anyone can do is talk about all the Kardashian pregnancies — and, honestly, I don't blame them. All of the news surrounding Khloé Kardashian's confirmed pregnancy and Kylie Jenner's never-ending pregnancy rumors, on top of the fact that Kim Kardashian and Kanye West just welcomed their third child via surrogate this week, it's been a lot to handle. Especially since Kim and Kanye reportedly haven't named baby number three yet and fans are dying to know what this little one's moniker will be.
On Wednesday, the 40-year-old rapper confirmed to photographers, according to People, that he and Kim were struggling to find the perfect name for their new baby girl. "Can't think of a name! You know what I'm saying," he told photographers on Wednesday, according to People, after being spotted going to work. A "source" reiterated and confirmed this information to People. The source told the magazine:
They still don't have a name. They've been thinking about it for months and they want to make sure they get it right. They will get there eventually!
Picking out a name definitely isn't easy, especially when everyone is watching you as you try to pick out that perfect name for your kid. After hearing the news about the baby's arrival, fans took to Twitter to share their thoughts and theories about the baby's name. And who knows, maybe Kanye and Kim can take inspiration from these tweets.
There are also plenty of theories out there that Kim and Kanye can look to for help with naming their baby. While they might be having a hard time picking out a name right now, they do have some guidelines to go by when it comes to picking out names for their children. Kim explained these guidelines to Ellen DeGeneres during an appearance on The Ellen Show in November, according to E! News. "I do like different names — but short, easy to spell, one syllable. That's my kind of vibe."
Kim even told DeGeneres that they even had their baby shower guests pick out a name for their new daughter at their baby shower, but nothing must have stuck. Kim isn't alone in her struggle. Plenty of parents do wait to name their baby, even after it has arrived. But there is a downside to this — according to NPR, a 2015 study found that waiting to name a baby is risky, especially since unnamed babies have an "increased risk" of mistakenly being given the wrong treatment in the neonatal unit, although their baby is reported to be home already, according to E! News.
But if Kim and Kanye are in search for some inspiration, they can look no further than to how they named their own children. In 2014, Kim revealed that she and West chose to name their oldest daughter North based on a combination of the rumors circulating they were naming their child that and celebrity approval of the name, according to HuffPost. Kim told GQ that approval from Vogue editor, Anna Wintour, sealed the deal for the name. Kim and Kanye reportedly named their son Saint after Kim's difficult second pregnancy, according to E! News, and the blessing that Saint offered their family. Both of these names really do fit the Kardashian-West family so well.
Because they've already gone two for two in the baby name department, there really is no doubt that they'll pick the perfect name for their new daughter. But the thing about perfectionism is that it sometimes takes a bit of time before it can really reach its full potential. Some things are definitely worth waiting for — and the perfect name for the newest member of the Kardashian-West family is just one of those things.
Check out Romper's new video series, Romper's Doula Diaries:
Watch full episodes of Romper's Doula Diaries on Facebook Watch.