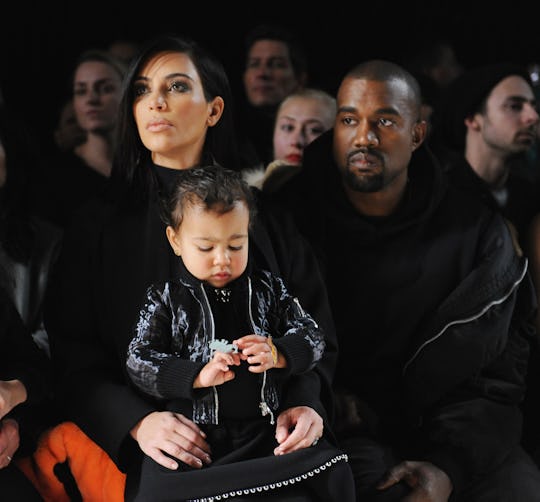 Craig Barritt/Getty Images Entertainment/Getty Images
7 Of Kim & Kanye's Most Adorable Parenting Moments That'll Instantly Make You Smile
I wouldn't trade my parents for the world, but it's possible that I would trade them for Kim Kardashian and Kanye West. Not only are Kardashian and West more in tune with music, fashion trends, and social media than my own parents but they're also amazing parents themselves to their three children — North, Saint, and baby Chicago. Sure, they may face criticism as parents (who doesn't?) but at the end of the day, Kardashian and West's most adorable parenting moments show that they've got it down pat.
On Valentine's Day this year, West returned to Instagram to wish his wife a Happy Valentine's Day, giving a whole new meaning to "#goals." But a lot has happened this year that would want him to make him to return back to Instagram — in January, he and Kardashian welcomed their third child into the world through a surrogate.
While they have remained quiet these past few weeks after Chicago's arrival, enjoying the time spent with their new daughter, they do have plenty of time to share Chicago with the rest of the world. Until they can make new memories as a family of three, fans can look to these super sweet and super cute parenting moments from the past five years that will tide you over for now.
1. The Time They Got Innovative In The Kitchen
Kids are picky eaters, that's no surprise. But Kardashian has an adorable fix to that problem in her household. Case in point: when, this past weekend, Kardashian made her children hot dog sushi.
Hot dog sushi might not necessarily be something you see on the menu at your favorite Japanese restaurant, but it seems to be something that both North and Saint love. Although people on Twitter were pretty grossed out by the sight of hot dogs wrapped in seaweed, according to MSN, others saw it as an expert (and super sweet) way to handle the picky eaters in her household.
2. The Time They Let North Design & Inspire A Fashion Line
Not every 4-year-old can inspire an entire fashion line, unless you are West and Kardashian's daughter, North. Last year, Kardashian and West collaborated with both of their children to produce The Kid's Supply — their first fashion line made for kids. Kardashian revealed to Vogue in September that both North and Saint contributed to the line after Kardashian couldn't find clothes suited for their personalities. Kardashian told Vogue:
North [loves] trips to fabric stores. She definitely has opinions on colors and styles.
3. The Time They Hosted Kidchella For The Younger Set
Some people pay a lot of money and wait a very long time to attend Coachella, a three day music festival in Indio, California, which is basically like the biggest and best concert of the year. But instead of making North wait until her teens, Kardashian and West brought Coachella to the kids — making North's first birthday party "Kidchella"-themed.
The bash came complete with a ferris wheel, face painting, and plenty of flower crowns, according to Us Weekly, giving fans a glimpse at what kind of birthday parties they would throw for their kids in the years to come (spoiler alert: Kardashian and West go all out).
4. Every Time They Took Their Kids To Fashion Week
There is no doubt that Kardashian and West are style icons in their own right, so it isn't a surprise that Kardashian and West have brought their kids to fashion week in New York City, too.
In 2015, Kardashian and West brought North to fashion week as their guest, according to Us Weekly, where North cheered on her aunt, Kendall Jenner, at a fashion show and kind of had a meltdown in front of photographers. One year later, Kardashian brought North and Saint with her to cheer on West at his Yeezy Season 3 show. Regardless of whether or not a 1-year-old enjoys attending fashion shows, it is pretty darn sweet of Kardashian and West to bring North and Saint along and expose them to one of their greatest passions early on.
5. The Time They Let North Have A Puppy
Over the summer, Kardashian gave North her very own Pomeranian puppy that she named Sushi. Taking care of a dog is a huge responsibility, but in a super sweet moment of parenting, Kardashian bought North a puppy of her own. A source told People that North had been "asking for a puppy for a long time." "Kim thought it was a good idea for North to take care of a puppy," the source told People. "It could prepare her for a baby sibling, too."
6. The Time Kim Let North Make A Total Mess
Last year, Kardashian Snapchatted the most adorable moment after she went to tend to Saint and saw that North had painted over her own vanity with purple nail polish. Luckily, Kardashian quickly forgave her daughter, before making her clean it up, according to People. Kids make messes — but they learn to clean them up, too. Kardashian's moment of showing this weakness shows that kids do mess up, but it is OK to let them make mistakes. It's all a learning experience, but it doesn't help that the moment was super cute, too.
7. The Time She Captured Saint's Laugh On Camera
It doesn't take much to create a super cute baby moment, just like when Kardashian captured Saint's laugh on camera when he was just 8 months old. In a video, posted to her Instagram account, Saint is seen and heard giggling up a storm, flashing his mom a wide, gummy smile. Parenting is hard work and it's important to remember that the little moments, like capturing a super cute moment on camera, matter, too.
Although Kardashian and West have only been parents for a handful of years now, they've clearly got this parenting thing down.
Check out Romper's new video series, Bearing The Motherload, where disagreeing parents from different sides of an issue sit down with a mediator and talk about how to support (and not judge) each other's parenting perspectives. New episodes air Mondays on Facebook.