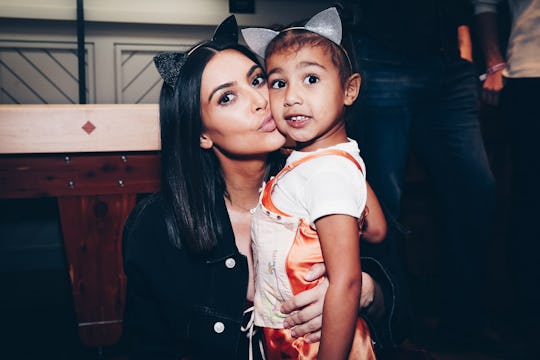 Handout/Getty Images Entertainment/Getty Images
Parents Will Love Kim Kardashian's Strategy For Dealing With Picky Eaters
Kids who are picky eaters are basically the worst. Every family seems to have at least one, and sometimes it feels like there's nothing you can really do to coerce said picky eater into, you know, eating enough food to survive. Many a desperate parent has turned to clever trickery, and not even the rich and famous are above it, apparently. Kim Kardashian's strategy for dealing with picky eaters is sheer genius, and a welcome reminder that picky eaters don't care if you're rich or poor. They will rain their fussy terror down on the privileged and underprivileged with disturbing equanimity.
The new mom-of-three and frequent victim of mom shamers recently shared a helpful, creative little trick to convince her older two children to eat their food. It seems her 4-year-old daughter North and 2-year-old son Saint with rapper husband Kanye West are fans of both sushi and hot dogs. So Kardashian decided to create a new food group; hot dog sushi. Combining two of her kids' favorites into one handy little dish. She shared a photo of the hot dog sushi with her followers on Instagram Stories on Saturday, and honestly I'm not even a picky eater but I'd be down for trying hot dog sushi. Especially with a little ketchup-flavored wasabi... now we're talking.
While I thought this was a brilliant idea, not everyone was so quick to jump on the band wagon. As with all things Kardashian, some instantly disliked the idea on principle alone.
I say give it a try, personally. Of course, I'm the same person who used to feed my own picky eater Honey Nut Cheerios with ketchup and banana filling the tiny holes. So maybe I know a little something about the challenge of trying to feed kids who don't want to eat what everyone else is eating.
There could be another reason for Kardashian's creative kid catering; she just welcomed a new baby into the family, daughter Chicago West, via surrogate on Jan. 15. And she's reportedly been going above and beyond to make the transition easier on her older two children. A source close to the Kardashian-West family told People:
Kim wants to make sure North and Saint have a lot of extra attention and feel included as well. It's a big deal for everyone to have a newborn in the family.
It seems big sister North struggled with some pretty serious sibling rivalry when her little brother Saint came home from the hospital, as she told Ryan Seacrest during her guest-hosting stint on Live With Kelly And Ryan:
I don't know if it's because she's the older sister. I don't know what it is. I thought it was a phase. She does not like her brother and it's so hard for me.
In an attempt to avoid any future sibling rivalry, Kardashian bought North a puppy for her birthday in June, ostensibly to help her learn how to take care of something as she prepared for the new baby to come home. And what did North name her puppy? If you needed further proof of the little girl's favorite food, she named her puppy Sushi.
I know hot dog sushi might not sound appetizing to the discerning palette of a grown up human, but here's what it sounds like to a little kid who just had a new baby move into the family and might be feeling thrown off or displace; it sounds like love. It sounds like someone is spoiling you with attention, going out of their way to make you happy.
And to me, it sounds like Kim Kardashian is a lot like every other mom out there. She wants her kids to eat. And she wants them to know they're loved.