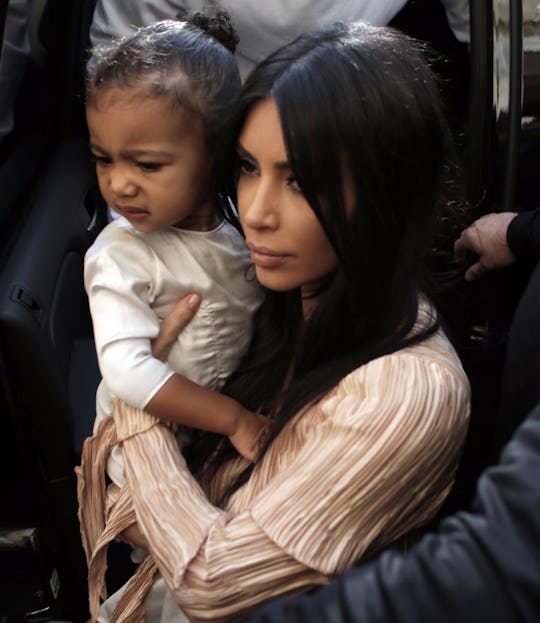 AHMAD GHARABLI/AFP/Getty Images
Kim Kardashian Lets North Do Her Hair, & Video Of The Action Shows She's A Pro Stylist
Not that any of us have ever thought Kim Kardashian West needed a pile of help in the glam department, but it looks likes a new member of her glam squad is making all the difference in the world. North West styled Kim Kardashian's hair on Instagram with the help of a friend, and moms everywhere could identify with the perils of living with a strong-willed toddler.
Little North, daughter of Kanye West and Kardashian and sister to baby Saint West, has been making strides in her career as a stylist to the stars (or one star at least) in recent weeks. She has been making the rounds of Snapchat, Instagram, and Twitter showcasing her fine works and building a strong online resume for future clients. In her latest video on Instagram, she has her client (and mom), Kardashian, speak to the camera for her while she and a friend work their magic on her hair.
"Hey guys, I've hired a new glam team, what do you think?," Kardashian said to the camera as her new "team" brushed and teased her hair into what can only be described as a disco chic, Cruella De Vil-inspired look — a bold choice for spring. While Kardashian sat through what must have been a fairly painful styling experience (anyone who has ever let a toddler near their long hair with a brush knows what I'm talking about), she also looked to be having a grand time with her bejeweled stylists humming, "comb, comb, comb" as they transformed her. (To be fair, they're a little too young for the dishy gossip that is the trademark of a great glam squad).
The reality star generally takes so much heat regarding every one of her decisions, but her obvious love for her daughter seems to be earning her a lot of well-deserved respect.
Particularly since most moms, aunts, grandmas, and loyal friends with kids have had to sit through the styling of their own glam squads and they know the kind of patience it requires.
This tiny new addition to the glam squad isn't one to sit on the sidelines and let her client get all the attention either. North knows how to get in on the action with her mom. Whether she is twinning it up with her hairstyle, or trying her hand at some new makeup, North is clearly always on trend.
I think Kardashian might be on to something here. Most parents know that getting kids dressed is generally about as much fun as having a wisdom tooth pulled without the good drugs. But maybe the key is to make it special — create a little glam squad of your own. It couldn't hurt to try, right?