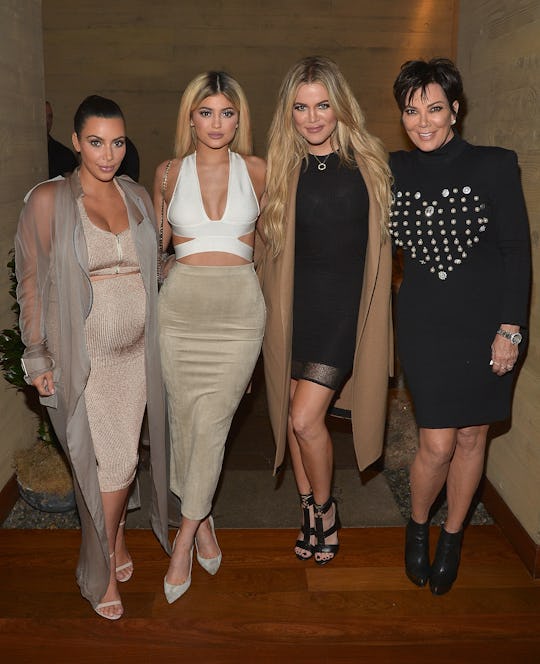 Charley Gallay/Getty Images Entertainment/Getty Images
Kim K Reportedly Wasn't Very Happy About Kylie Jenner's Pregnancy For A Heartbreaking Reason
According to People, unnamed sources claimed that sister Kim Kardashian wasn't very happy about Kylie Jenner's pregnancy news at first, due to Kardashian and her husband Kanye West's recent challenges in getting pregnant for a third time. Kardashian and West finally ended up hiring a surrogate for their latest pregnancy, and after overcoming those many challenges, sources said Kardashian was slightly taken aback by Jenner's news.
"Her first reaction was, 'Seriously?'" the unnamed source reportedly told People, continuing:
She didn't respond well at first. It's like she and Kanye had gone on this whole journey to get pregnant for months, and now this happens to Kylie. She teared up. It definitely took a lot of time for her to process it.
Kardashian's representative didn't immediately respond to Romper's request for comment regarding the rumor.
Update: Kardashian issued her own public response on Twitter Tuesday. She retweeted a Harper's Bazaar story about People's claim that she was initially upset by her sister's baby news, saying "This sounds like a very fake story..." It appears that Kardashian either didn't react to the news the way People's source claims, or there was no reaction because there's no pregnancy — we still don't really know.
Previously: According to People, however, the source said that Kardashian eventually came around to Jenner's news. "Of course Kim is happy for Kylie," the source said, continuing:
She's going to support Kylie 100 percent, no matter what. There's never been any question about that. But it's just a weird dynamic, after all that Kim did to intentionally have another child. It has taken a lot of time, energy and money for her to get pregnant, and now Kylie is having a baby around the same time.
If the report is true, Kardashian's reaction would be entirely understandable. After all, dealing with infertility can be a hugely emotional journey for those who want children, and hearing about someone else's easy pregnancy — especially when an individual has been facing recent fertility struggles of their own — can bring up a bunch of unwanted, difficult emotions.
"The news of a close friend's pregnancy can feel like an especially damaging lightening bolt," Connie Shapiro, professor of family studies at the University of Illinois and author of When You're Not Expecting: An Infertility Survival Guide, wrote for Psychology Today in 2010.
Feeling jealous or resentful about another woman's pregnancy is, in fact, a surprisingly normal experience — but many, many women feel guilty about their unhappy internal reactions to their best friends' or sisters' happy news. Experts say that there's no need for guilt, and that women should be a little more easy on themselves during a time often fraught with anger and sadness.
"Experiencing infertility while your other friends are getting pregnant can be very isolating," the Seleni Institute, a non-profit organization supporting the mental health of women, wrote for Psychology Today. Its experts advised women struggling with infertility:
It's OK to wish a friend well and, at the same time, feel sad or disappointed about your own loss. A compassionate thought to have about your feelings could be: "I'm happy for my friend but sad for me."
No matter what your opinion is of the Jenner-Kardashian sisters, it's clear that their bond is incredibly close. Whether the rumor of Kardashian's reaction is true or not, it's clear that the two sisters are nothing but supportive of one another. I can't see Jenner being anything but understanding of Kardashian's emotions, and despite those initial feelings, it's clear that Kardashian will support her younger sister no matter what.
On top of that, both Kardashian's surrogate and Jenner are reportedly due within a month of one another (in January and then February, respectively, next year — dates that have made plenty of people question whether Jenner is actually Kardashian's surrogate, which is a whole other can of conspiracy worms). If those dates are accurate, Jenner and Kardashian will be welcoming babies into the world at the same time, which should help them both become closer than ever.
Watch Romper's new video series, Romper's Doula Diaries:
Check out the entire Romper's Doula Diaries series and other videos on Facebook and the Bustle app across Apple TV, Roku, and Amazon Fire TV.