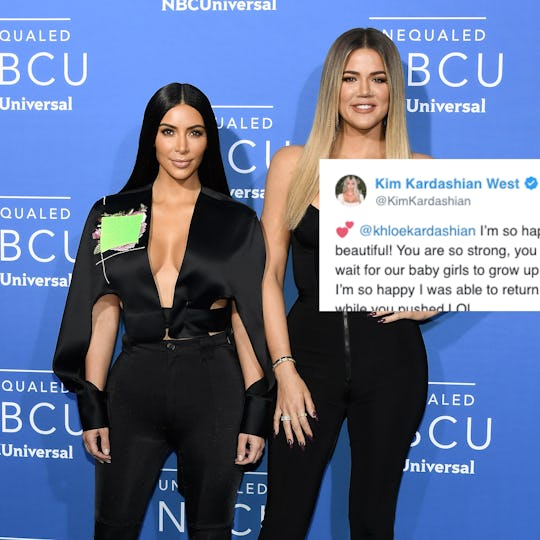 Dia Dipasupil/Getty Images Entertainment/Getty Images
Kim K Responds To Khloé Giving Birth With A Sweet & Hilarious Tweet
Khloé Kardashian gave birth to her baby girl Thursday, and while recent allegations of her partner Tristan Thompson's infidelity have been grabbing headlines, Khloé's big sis took to social media Friday to let the world know that both she and her baby are surrounded by lots of love and support, regardless of the circumstances. Kim Kardashian responded to Khloé giving birth, and her message was a beautiful — and pretty hilarious — tribute to the new mom.
In her tweet, Kim wrote that she was "so happy" for Khloé, and that her daughter (whose name hasn't yet been revealed) "is so beautiful." She also gushed about how excited she was about getting to watch their little girls "grow up as best friends the way [they] are," (Kim welcomed her youngest daughter, Chicago, via surrogate earlier this year) and even shared some details about her sister's delivery. Though Khloé had previously said that the only people she knew for sure she wanted in the delivery room were Thompson and her mother, Kris Jenner, it sounds like Kim was there too — and that she had an important role to play. Kim wrote, "I'm so happy I was able to return the favor of holding your leg while you pushed," and followed up with another tweet not long after, once again gushing about her newest niece.
The Kardashian sisters are super supportive of each other in general, so it's no surprise that Kim would want to publicly congratulate her sister on the birth of her daughter. But given the recent cheating allegations swirling around Thompson, it also makes sense that Kim would want to support Khloé after what must have been an incredibly trying week of emotional ups and downs: according to The Daily Mail, Thompson appeared to be caught on video with another woman at his hotel in New York City only days ahead of Khloé's delivery, and TMZ also shared separate footage earlier this week taken at a hookah lounge outside Washington D.C. in October that allegedly showed Thompson with two other women (Thompson's and Kardashian's reps didn't immediately respond to Romper's request for comment).
While Khloé and her family appear to be staying quiet on the allegations for now, the one thing that seems absolutely clear is that no woman should ever have to be hit with rumors of a cheating scandal only days ahead of giving birth to her first child. But in addition to the delivery-room support from her mom and her sister, TMZ reported that both Kourtney Kardashian and Khloé's BFF Malika Haqq, also flew out to Cleveland to be there for Khloé during the birth, which suggests that Khloé at least had a solid team of support during the delivery.
Though neither have commented on Khloé's birth publicly so far, Kris Jenner did repost an Instagram video from W Magazine of Kendall Jenner in reference to Kris' three new granddaughters, along with the caption, "BLESSED!!!" And on Wednesday, Malika Haqq's twin sister, Khadijah Haqq, shared an Instagram post that read, "the best thing a father can do for his children is love their mother," — a quote that many assumed was a not-so-thinly-veiled reference to Thompson.
Now that Khloé has given birth, Us Weekly has reported that her team are taking steps to move the reality star and her daughter from the Cleveland home she shares with Thompson back to her home in L.A. That's definitely another unexpected change for Khloé, given that she'd relocated to Ohio full-time, but the magazine cited unnamed sources as confirming that she had no plans to stay with Thompson in light of the allegations against him, and that Thompson "isn't going to make any demands of her" to stay.
But that may not be the end of their future together after all. People has also reported that Khloé's baby joy is the most important thing on her mind right now, and that, actually, she's apparently not nearly as outraged at Thompson's alleged behavior as most people on social media seem to be. In fact, an unnamed source told the magazine that Khloé is "is in a bubble of love and peace and happiness right now," and that "she's basically already forgiven him."
In other words? We basically know nothing for certain about what's going to happen between Khloé and Thompson, and we likely won't until one of them actually speaks up themselves. And honestly? If the rumors are true, then I don't blame Khloé at all if she doesn't want to comment, or even make any decisions at this point. No matter what the details, she's a woman who just had a baby for the first time. And she, like all new moms, deserves to enjoy every tiny second of her new life with her baby girl.
Check out Romper's new video series, Bearing The Motherload, where disagreeing parents from different sides of an issue sit down with a mediator and talk about how to support (and not judge) each other's parenting perspectives. New episodes air Mondays on Facebook.