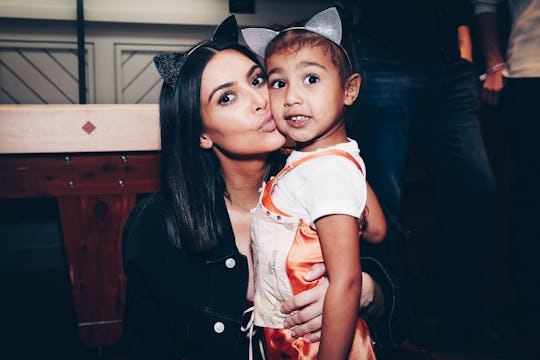 Handout/Getty Images Entertainment/Getty Images
Kim Kardashian Responds To North West Slut-Shamers
Kardashian-bashing, it's sooo 2010, guys. I'm not sure why hating on all things Kardashian seems to be coming back in vogue recently (although Rob Kardashian's manic Instagram outburst didn't help), but it's tiresome. And boring. And particularly cruel when people go after the reality star's kids. The latest brouhaha? Brace yourselves for this, friends. Kim Kardashian responded to North West slut-shamers who were pissed about a "corset" they thought the little girl was wearing. Because that's how invested people are getting in Kardashian-bashing... they're ready to slut-shame a little girl.
Before we go on here, I feel like I need to say this: Even if she did put her daughter in her corset, it's nobody's business. I know it feels like it's everybody's business because she's a reality star and all, but it's still just not. She doesn't care how you dress your kid, right? So a little quid pro quo would be nice. This, I realize, is not the world we live in. And the Keeping Up With The Kardashians star/clothing designer realizes it as well. When the ever-watchful Kardashian police (also known as trolls) spotted 4-year-old North West in what they believed to be a corset, they couldn't wait to skip off to their social media accounts and lambaste Kardashian.
Clearly the critics were concerned for North West's welfare, and not just looking for yet another excuse to criticize a Kardashian.
The mom of two had literally no time for their nonsense, and took to Twitter with a video to prove that she had not dressed her daughter in a corset. Please listen and note the world-weary exhaustion in Kim K's voice.
In the video, Kardashian said:
This dress that I did not design, I actually bought, is not a corset. It's just fabric on the front that looks like a corset. I think it's really cute. I bought it from a designer. It's just fabric, people. It's not a real corset.
She didn't have to explain anything but hey... that's her kid. And whatever you might think of the Kardashians, going after kids? So much no, I can't even tell you.
This isn't the first time in the past week that Kardashian has had to quell the critics; It was only Tuesday when she was accused of taking a pic on Snapchat with two lines of cocaine in the background. While the internet was getting ready to come out in full mob force, Kim K explained the lines were actually part of the patina on her marble table (and shared a video two days later to prove it; The marks were still there).
So accusing a mom of doing cocaine with essentially no evidence, then slut-shaming her 4-year-old two days later... would that be acceptable for any other family? I doubt it.
Not only is this recent spate of Kardashian-bashing cruel, it's lame. Everyone had their moment to hate on the famous family years ago, and then grew up and moved on. Get with the now, people.