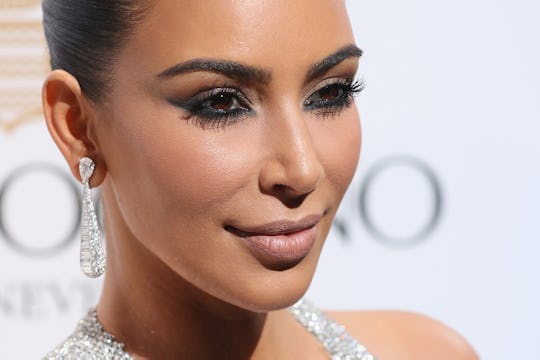 Andreas Rentz/Getty Images Entertainment/Getty Images
Saint West's Diaper Bag Is Worth More Than Your Car, Hopes, Dreams
The diaper bag I use for my toddler ran about $70. To me, that was a pretty hefty price to pay. Then Kim Kardashian revealed how much Saint's diaper bag costs. I don't think I could complain about dropping $70 on anything in my life again. Kardashian's diaper bag for Saint reportedly costs $23,000, Us Weekly reported, citing a blog post the celebrity mom wrote Thursday.
The diaper bag in question is a Hermès Birkin purse, which usually cost thousands of dollars, according to ABC. (The most expensive Birkin handbag sold for $379,261 in June.) So it shouldn't be a surprise that Kardashian is carrying around a $23,000 diaper bag for her 20-month-old son. I won't lie, though: I choked on my water when I saw that price tag.
In a post for her official app, Kardashian explained more about the origin of Saint's diaper bag,
But the thing is, it's a really old bag. It was my first Birkin bag that I ever bought. ... But that's all they had and I just wanted one so badly and I'd saved and saved and that's all they had and I took it. When I got pregnant I was like, 'perfect! I'll use it as a diaper bag.'
This isn't the first time Kardashian used a diaper bag with a price tag in the five-digit range. According to the Hollywood Life, the 36-year-old entrepreneur used a $30,000 Hermès Birkin handbag to carry around diapers, snacks, and wipes when daughter North West was only a few months old in 2013.
Still, for many of us, $23,000 is a shocking price. After all, that's how much I spend on nearly two year's worth of rent. It's a huge chunk of change most of us won't have the chance to hold in our hands for even a second. Of course, I'm not judging Kardashian for dropping that kind of money; she has it to spend, obviously, and spend she should. And it seems her Hermès Birkin bag will stand the test of time and weather, which is more than I could say for mine.
In fact, as US Weekly pointed out, Kardashian could probably use the Hermès Birkin diaper bag when she and Kayne West have their third child next year via surrogacy. (Kardashian has been quite public about her high-risk pregnancy complications and desire to have more children.) The powerhouse couple have reportedly recently chosen a surrogate, a mom from San Diego in her late 20s. They're expecting to welcome their newest addition in January 2018, according to reports.