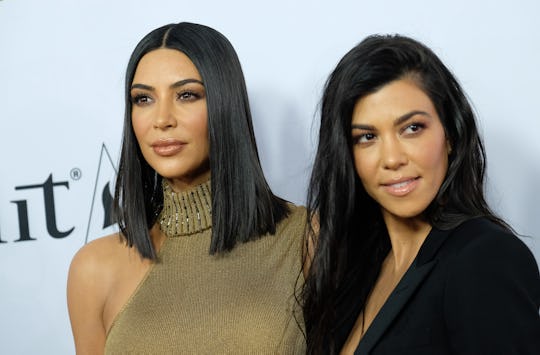 CHRIS DELMAS/AFP/Getty Images
Kim Kardashian Admits To Using Kourtney's Breast Milk For A Pretty Genius Reason
The Kardashians might be increasingly hard to keep up with these days, but the sisters in particular remain as candid as ever. When they feel like it, I mean. Try getting certain sisters to cop to some alleged pregnancies, and you might be out of luck. But ask Kim Kardashian if she tried Kourtney's breast milk, and she'll be up front with you. Because she did, and she was happy to admit it.
As widely documented on the hit reality series, Kim struggles with psoriasis, a condition that causes itchy rashes and red, patchy skin. As she explained on her app on Tuesday, she's been searching for some relief from her symptoms from the hereditary autoimmune disease for the past seven years, and thought she might have found an especially unique (and totally organic) cure. According to The Daily Mail, the Keeping Up With The Kardashians' star explained via her app:
I've tried some basic treatment methods, but I'm always open to trying new things. One time, I even tried using Kourt's breast milk, lol!
She went on to explain that her mother, Kris Jenner, also suffers from psoriasis, and revealed the few things she has done that have managed to help her symptoms. "Things I've tried that do help are following a low-acid diet, cortisone shots and topical cortisone creams," Kardashian wrote, as The Daily Mail reported.
Apparently Kourtney's breast milk did not quite do the trick, for anyone who was looking for a quick fix.
Kim also shared a picture of her blemished legs on her app to help fans who might be suffering from the same condition.
While Kim's heart was probably in the right place, it needs to be said that applying breast milk to infected skin (as she did during an episode of Kourtney & Kim Take Miami on E! in 2013) has never been proven to show any signs of improving psoriasis.
Although Dr. April Abernathy, according to BabyCenter, former associate director of medical programs at The National Psoriasis Foundation, did note that colostrum — the first milk your breasts produce during pregnancy — has proven effective for skin-healing, it still is not recommended. As Dr. Abernathy told The National Psoriasis Foundation:
I think when people are plagued with psoriasis, they are always looking for something and anything that will work.
This isn't the first time older sister Kourtney has tried to help Kim out with her breast milk. Back in 2013, the mother of three (7-year-old Mason, 5-year-old Penelope, and 2-year-old Reign) offered to breastfeed Kim's daughter, North, when she was babysitting. During an interview with TODAY, Kim revealed:
[Kourtney] said, "in the old days, and maybe we should try this one sister should babysit all the kids, so I can go out or vice-versa, and whichever sister is babysitting should just breastfeed all the kids that are there."
Kim's response? It was a big no to allowing her sister to breastfeed her child (breast milk to clear up her own psoriasis, on the other hand, was apparently perfectly acceptable).
While Kourtney's children with ex Scott Disick might be growing up, Kim might have a few more sisters willing to pass along their breast milk for possible psoriasis treatment if she still thinks it would help. Rumors continue to swirl about sister Khloe Kardashian's potential pregnancy with boyfriend, basketball player Tristan Thompson, according to People. And youngest sister Kylie Jenner is also allegedly expecting a baby girl this February with boyfriend, rapper Travis Scott, Us Weekly reported. Oh, and did I mention that Kim herself is reportedly expecting a third child via surrogate this winter?
That seems like a lot of breast milk to go around, if you ask me. I'm sorry, I mean a whole lot of alleged breast milk. Let's not jump the gun here.
Watch Romper's new video series, Romper's Doula Diaries:
Check out the entire Romper's Doula Diaries series and other videos on Facebook and the Bustle app across Apple TV, Roku, and Amazon Fire TV.