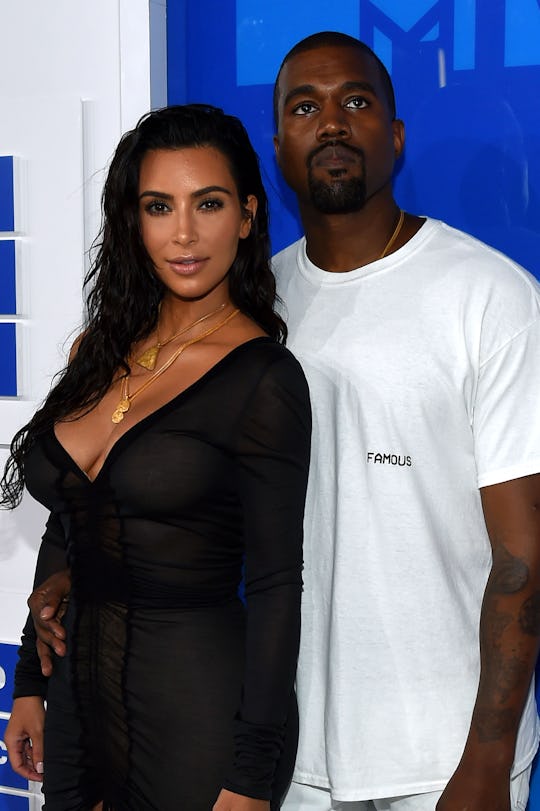 Larry Busacca/Getty Images Entertainment/Getty Images
Kim Kardashian Reveals Her Daughter's Name & It Has A Beautiful Meaning
Kimye announced that they'd welcomed a healthy baby girl via a surrogate on Kim's app on Jan. 16 without giving fans any clues as to what their newest addition's name would be. Fans started speculating and theories abounded on social media, but Kim finally revealed her daughter's name: Chicago West. The name is exactly what eager followers anticipated. The KKW Beauty mogul and rapper announced their decision via Kim's app.
Kim first released their statement about their daughter, announcing that she's "healthy" and "beautiful" on her app, according to E! Online:
Kanye and I are happy to announce the arrival of our healthy, beautiful baby girl. We are incredibly grateful to our surrogate who made our dreams come true with the greatest gift one could give and to our wonderful doctors and nurses for their special care. North and Saint are especially thrilled to welcome their baby sister.
Prior to welcoming Chicago West, Kanye said he was having trouble coming up with a name for their third child and second daughter, who weighed about 7 pounds and 6 ounces at birth, according to the Daily Mail. When Kim was on The Ellen Show recently, she said she and Kanye were "freaking out" because they didn't have any ideas — though she added that she is a fan of "easy to spell, one syllable" names.
Of course, for fans of Kanye West, the name Chicago will mean a lot to them. Kanye's hometown is Chicago, and his love for the city is no secret. Neither Kim nor Kanye have come out to say that their daughter is named after the city, but fans seem to think that is the meaning behind it. On top of the name being Chicago, TMZ is reporting that Kim and Kanye's other kids, North and Saint, are already referring to their baby sister as "Chi" (pronounced "Shy"), a common nickname for the city of Chicago.
Immediately after releasing the news, sister Khloé Kardashian shared that she "loved" the name, confirming the nickname "Chi" (pronounced "shy"), that TMZ reported, as well.
Prior to the release of the name, fans started coming up with baby name theories ever since Kim posted an uncaptioned Instagram photo of the iconic Louis Vuitton print, Hello! magazine reported. Followers on Kim's Instagram account threw everything from "Louis," "Louise," "Clover," "Vuitton," "Elle," "Vie," and "Diamond," to "Elvie" (as in LV, phonetically) out there. "Elvie" proved to be pretty popular. Some clever fans believed that the baby's name should start with an E to represent "east," anyway, since Kimye already have a North West, 4, a Saint West (S for "south"), 2, and, you know, the last name West.
Kim is a well-known fan of Louis Vuitton, and has often shared photos of Louis Vuitton decor. One of those photos was of a pair of trash cans decorated with the Louis Vuitton logo (because who doesn't need Louis Vuitton trash cans?), shared just days before the birth of their third child. This, of course, launched fans into speculation that the image had to do with the baby, according to People. But The New York Times also announced on Wednesday (the same day Kim posted the Louis Vuitton Instagram photo) that Kim Jones, the artistic director of men's wear at Louis Vuitton, would be stepping down after seven years. So, overall, fans were pretty confused. Of course, responding to the rumors, Kim shot down the theory that her daughter would be named after the famed fashion label just a day before announcing Chicago's name.
Well, we know a name, but what's still a mystery: Who was Kim's surrogate? A lot of fans are theorizing that it was Kyle Jenner all along, according to Hello Giggles. But, I, for one, think it should be kept private to protect the woman who carried Kim's baby (also does it matter?).
Editor's note: After publication, we discovered this article did not meet our editorial standards. There were portions that did not correctly attribute another source. It has been updated to meet our standards.
Check out Romper's new video series, Romper's Doula Diaries:
Watch full episodes of Romper's Doula Diaries on Facebook Watch.