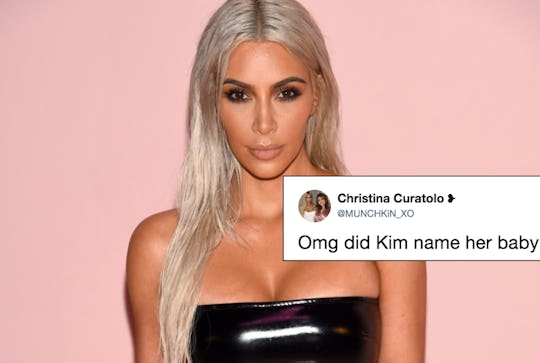 Dimitrios Kambouris/Getty Images Entertainment/Getty Images
Kim K Responds To That Baby Name Rumor Fans Were Convinced She Teased On Instagram
Reality star Kim Kardashian West and husband, rapper Kanye West, welcomed their third baby earlier this week. The baby girl is reportedly healthy and doing well after being delivered via surrogate. Now that fans have gotten their fill of the birth details that have been shared, rumored and confirmed alike, they're hankering for more baby news. Hankering to find out the name of said baby in particular. And some fans thought they'd figured it out from a certain Instagram post featuring a well-known fashion label. But no, guys, Kim Kardashian's daughter is not named Louis Vuitton. Sorry to be the bearer of bad news.
On Wednesday the Kid Supply designer shared a picture of the iconic Louis Vuitton print on her Instagram page. She didn't share a caption, nor did she share an explanation. And fans, waiting on tenterhooks to get more info about the third Kardashian-West baby, immediately lost their minds. Speculation that their child simply must be named Louis Vuitton ran rampant all over the internet, with people trying their hand at guessing how exactly the name might work best for the couple. "Elle V West," perhaps? Or simply "Louis West?"
Kardashian decided to go ahead and end the rumor on Thursday with a simple tweet... and can I just say my feelings are a little hurt because I think she might be mocking us?
Kardashian retweeted an article by Us Weekly claiming that she had possibly "teased her third child's name with an Instagram post." The new mom wrote, "NOPE!" She went on to explain that it was a tribute to Louis Vuitton artistic director Kim Jones, who had just finished his last show with the famed fashion house after seven years. She went on to point out that iconic supermodels Naomi Campbell and Kate Moss looked "amazing" as they walked the catwalk with Jones.
Fans immediately re-calibrated, moving on from their original theories and leading back to the drawing board, trying to come up with possible names for 4-year-old North and 2-year-old Saint's little sister.
It's actually beyond impressive to see the amount of thinking people are putting into the name guessing game for the Kardashian-West family. It probably helps that Kanye admitted to photographers the other day that they hadn't chosen a name yet. Even one of the photographers got in on the act; he shouted out, "What about Donda?" Kanye's mother Donda died in 2007, and some sources told People that he is in favor of the name for their third child. That same source said that Kim isn't a fan and might be pushing for something else. Another name that has surfaced as a top contender? The name Love, which could get pretty confusing considering matriarch Kris Jenner is called "Lovey" by all of her grandchildren.
Personally, I have my own guess. Kardashian took to Twitter earlier to share the fact that her 2-year-old son Saint can already spell the word gargantuan. Why is he learning that word, Kim, why? Maybe because his little sister is named Gargantuan?
Jokes, of course. Kim has said the couple prefer simple, one-syllable names for their children that are easy to spell. That girl is all about the clean lines, I guess, even when it comes to her baby's name.
Which is definitely, definitely not Louis Vuitton. I know both Kim and Kanye are big fans of the label (Kanye's nickname is even the Louis Vuitton Don, and he's mentioned the brand in several songs), but loving a label and naming your child after a favorite label are two different things.
Just ask my son, Gap White V-Neck T-Shirt.
Check out Romper's new video series, Romper's Doula Diaries:
Watch full episodes of Romper's Doula Diaries on Facebook Watch.